Special Price
$295.00
Regular Price
$395.00
REAL WARMTH. REAL WOOD. REAL EASY.
Smoke can really put a damper on sitting around a fire with friends and family. We know fire has smoke, which is why we created the smokeless fire pit. The patented airflow technology reduces the smoke so you can enjoy the experience without the discomfort.
Product Details
3 Reasons You'll Love Our Patio Fire Pit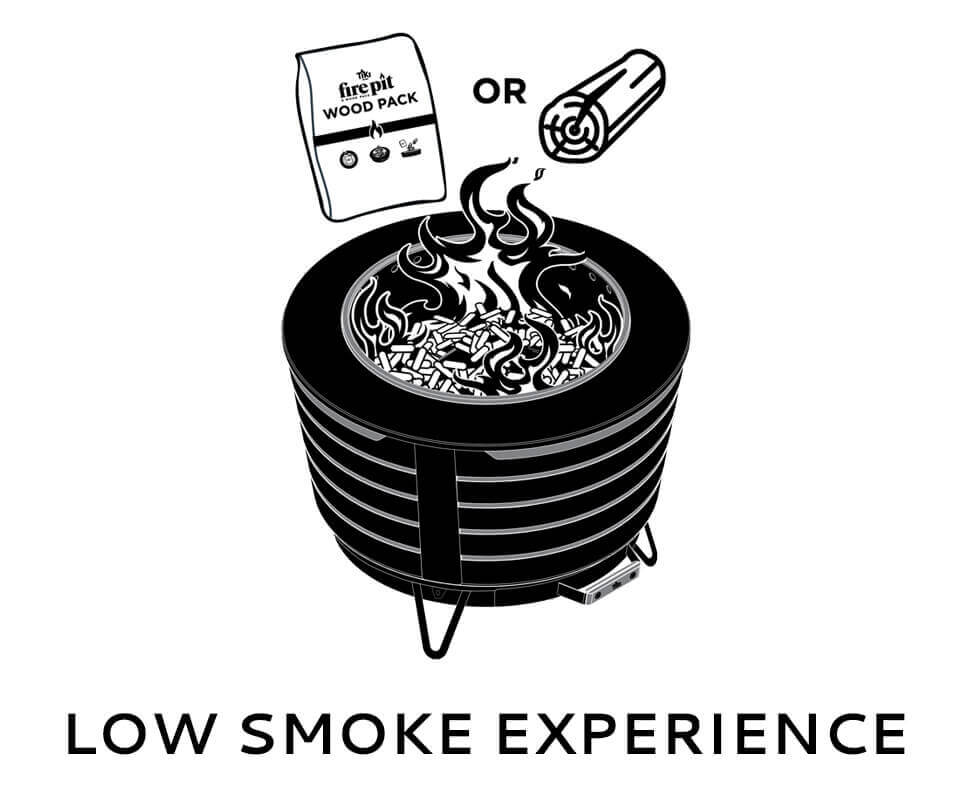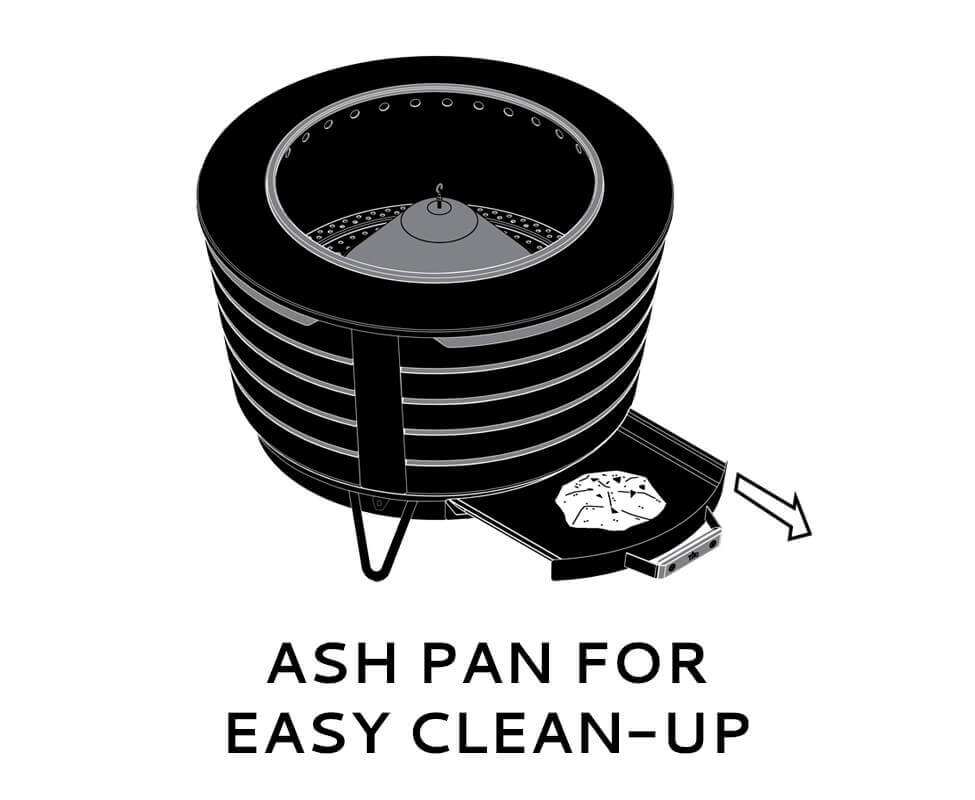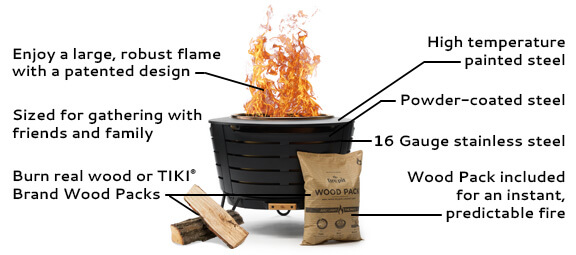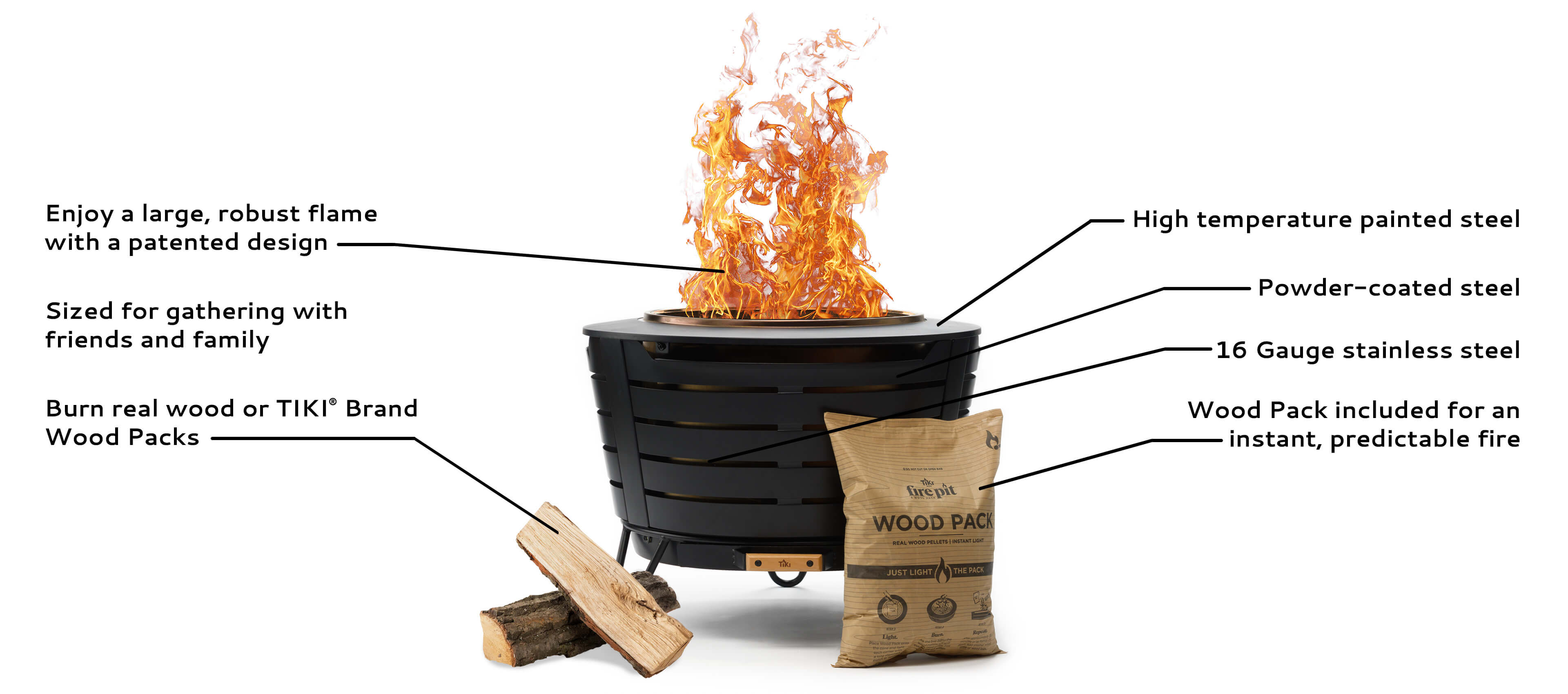 "The best fire pit overall" CNET March 2022
Frequently Asked Questions
Q. Is it ok to use wood logs in the Fire Pit?
A. Yes. For best results, use dry, seasoned wood that has been split and cut to a length of 16 inches or less, so it fits within the Fire Pit bowl.
Q. How do I clean out the ash from the bottom of the Fire Pit?
A. Once the Fire Pit has completely cooled, remove the center cone and carefully sweep ash inside the Fire Pit through the bottom holes. Then, pull out the ash pan by its handle and dispose of the ash per your local laws/regulations.
Q. Are there handles on the Fire Pits?
A. The handles for the Patio Fire Pit are integrated into the design of the Fire Pit. The handles, which make it easier to move the Fire Pit, can be found underneath the outer section of the top ring. Because of the size of the Patio Fire Pit, it should be moved by two people. The Fire Pit handles get very hot during use, so only move the Fire Pit once it has completely cooled.
Specifications
Contents: Fire Pit, Wood Pack, Weather-Resistant Cover, Instruction Manual, Quick Start Guide
UPC:

086861190012


Weight: 43.00 lbs
Length: 24.75 in.
Width: 24.75 in.
Height: 18.75 in.

Customer Reviews
Rated

5

out of

5
by
Jeff B
from
Tiki fire pit
Fire pit is nice and heavy very sturdy burns very efficient and looks great!
Date published: 2022-09-29
Rated

5

out of

5
by
EricY
from
Great smokeless fire pit
This is such a great fire pit, I couldn't rate it more! It's just about as smokeless as you can get whether you use wood or the wood pellets. I do recommend the pellets because they burn much hotter and provide a larger flame. The pellets last about 30 minutes but are so easy to just throw another bag on that it doesn't matter. Also, it's easy to lift and transport plus easy to clean with the ash pan. A big bonus is that it looks really sharp! It looks just like it's shown in the pictures. I highly recommend. If you're trying to decide which one to get, get this one and thank me later! 10/10
Date published: 2022-09-20
Rated

3

out of

5
by
matthew128
from
Great but not so great
On one hand I really love this fire pit. I have had it for two years and love having backyard fires. It works really well. the pellets work the best (as far as no smoke) but even wood has minimal smoke once it gets going. so 5 stars for engineering. The actual build quality is a problem. I am on my 3rd fire pit now. The bottom portion of the fire pit (the part you see and put pellets in) warps with heat and then breaks the soldering eventually collapsing into the ash collection area. This is obviously a problem with a fire pit. my first lasted a year (really 5 months of use) and now my 2nd has done the same. The company just sent me a 3rd (under warranty) and were very friendly and quick. I keep care of the thing with putting the cover on when not using and even take it out of the elements for the winter. So I am really torn on whether I would recommend this to someone for the price.
Date published: 2022-09-15
Rated

5

out of

5
by
Ted Lasso
from
Two thumbs up!
Perfect. It's like all the best parts of having a fire going without the Smokey worst parts. We love it, kids love it, company loves it.
Date published: 2022-09-11
Rated

5

out of

5
by
Isaiahsmom
from
Amazing
I can't get over how nice and how easy it was put use and put together my Portable Firepit.I can take it any where i go.It's very durable .We use it all the time
Date published: 2022-09-03
Rated

5

out of

5
by
JBCT
from
Very happy about this purchase!
Loving the look of this fire pit and the way it complements our decor. The pull out tray for the ashes is awesome, but there is no tool that comes with the pit to help you push those ashes down into that tray. The opening is a bit smaller than our old one so our already cut wood is a little long, but nothing an axe can't fix! We bought the screen guard and poker and soooo worth it! The poker even has a bottle opener on it! We are really enjoying this firepit and our friends with other smokeless brands are jealous of the classy look and ease of ash removal.
Date published: 2022-08-22
Rated

2

out of

5
by
Neckra
from
Rusting
After 2 years the top is rusting and always coveted
Date published: 2022-08-09
Rated

5

out of

5
by
Dgpolara
from
Great Fire pit
I received this as a gift to replace my old one. My first fire was with the wood pack that came with it. Easy to light up. I also got a box with 4 wood packs. I opened one bag and placed some of the chips into a regular paper bag, just to start the fire and then I placed fire logs in it, again it made nice fire. I cleaned the ashes with a 4 inch brush, it stay like no fire was in it, the color didn't change much. The ash tray comes out and dump it after it cools off. I left the fire pit with the cover on during the rain and no water got in. Not much smoke comes out and we can leave the patio door open. Looks well built. Extremely happy with it!!!
Date published: 2022-08-04
Questions & Answers
Can I put a grill grate on top for cooking purposes? Do you sell grilling accessories?
Thanks for the question! We do not recommend using a grill grate with the TIKI Brand Fire Pit and do not offer a grill grate. Thank you! - TIKI Brand
Date published: 2022-09-22
can i use a duraflame log or similar?
Thank you for your question! We would not recommend using these in the TIKI Fire Pit as they are often comprised of wax and other things that could potentially damage the pit. Hope this helps! - TIKI Brand
Date published: 2022-09-22
How much does the unit itself actually weigh once it is fully assembled? I've seen mixed reviews with some people saying it weighs more than what your website advertises. How much does the portable fire pit weigh in comparison?
Thank you for the question! When delivered the Patio Fire Pit will weigh 62 pounds, and once fully assembled, the Patio Fire Pit will weigh 45 pounds. The Portable Fire Pit will weigh 41 pounds when fully assembled. We hope this helps. -TIKI Brand
Date published: 2022-09-14
Do you offer a military or first responder discount?
Thank you for your review. We are happy that we were able to respond to your question by email. -TIKI Brand
Date published: 2022-09-14
Can I use the fire pit on a concrete patio without damaging the patio?
Thanks for the question! The Portable Fire Pit should not be placed on any combustible surfaces so a concrete surface should be suitable. If you are concerned about damaging the concrete, using a non-flammable, heat-resistant mat underneath the Fire Pit could help. We hope this helps! - TIKI Brand
Date published: 2022-09-06
Can the fire pit stand be replaced? We've had ours for a year and one of the legs is rusted out.
Thank you for reaching out! We are happy that we were able to resolve your issue by sending you new Fire Pit Legs. -TIKI Brand
Date published: 2022-09-06
Ordering as Christmas gifts- how do I enter multiple shipping addresses? Easier perhaps to order them one at a time?
Thank you for reaching out! Unfortunately you wouldn't be able to enter multiple shipping addresses when placing an order. You would want to place the orders one at a time if looking to do multiple shipping addresses. I hope this helps. -TIKI Brand
Date published: 2022-09-06
Can I burn bamboo in the fire pit? I know bamboo burns hot and fast.
Thank you for your question! The Fire Pit was designed to work specifically with the TIKI Wood Packs and as result, do not use with fuel sources other than the TIKI® Brand Wood Pack or natural cut firewood. -TIKI Brand
Date published: 2022-09-25