RETREAT SMOKELESS FIRE PIT
Special Price
$196.00
Regular Price
$245.00
REAL WARMTH. REAL WOOD. REAL PORTABLE.
A smokeless fire pit you can take with you. We know fire has smoke, which is why we created the smokeless fire pit. The airflow technology reduces the smoke so you can enjoy the experience without the discomfort.
Product Details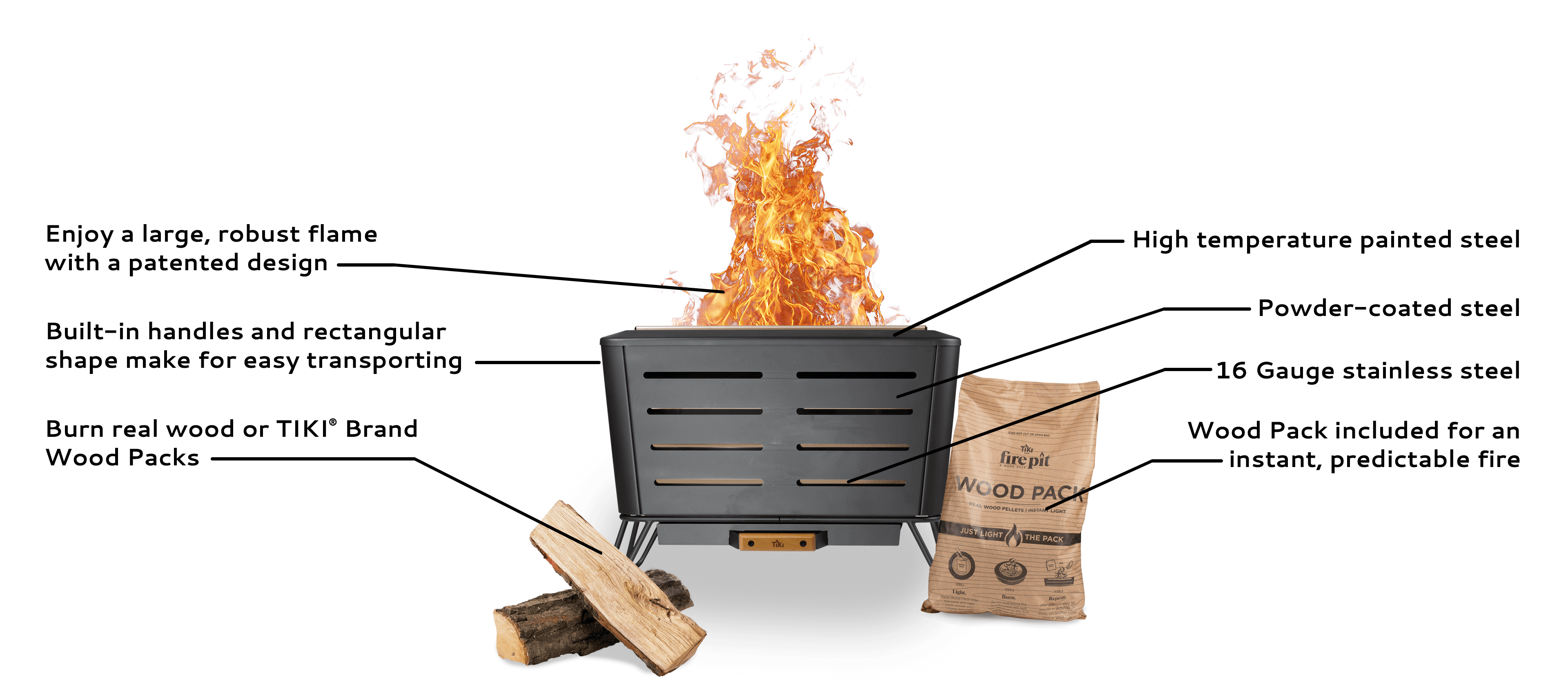 Specifications
Contents: Fire Pit, Wood Pack, Weather-Resistant Cover, Instruction Manual, Quick Start Guide, Ash Pan
UPC:

086861200025


Weight: 41.00 lbs
Length: 21.50 in.
Width: 14.50 in.
Height: 16.70 in.

Customer Reviews
Rated

5

out of

5
by
marie12
from
Portable
I was looking to buy a portable fire pit for camping and found the Tiki brand. I love the size and how portable and lightweight the fire pit is. Works great and I like that it includes the stand , ash pan and cover
Date published: 2023-03-22
Rated

5

out of

5
by
Ryan35
from
Best fire pit out!
I have had this firepit for 2 full seasons now and absolutely love it! I have friends with other pits both cheap and expensive, this by far trumps them. With the outer ring having the slots in it ,that allows for heat to radiate out of the sides.Highly recommend this. Now I just need the larger pit that was just released!
Date published: 2023-03-22
Rated

5

out of

5
by
Anonymous
from
Very happy!!
Looks good and does what it's supposed to do with little to no smoke! Accessories?
Date published: 2023-03-21
Rated

5

out of

5
by
Plakmeyer5
from
Amazing Addition
This screen is great at keeping ashes away while still keeping the fire pit functional and looking nice. Being able to take off the screen with ease is great, too! The poker is sturdy and made to last!
Date published: 2023-03-20
Rated

1

out of

5
by
TufffLuck86
from
Unsafe for small areas, AKA need an open field!
Recently bought a new home and have been putting together the medium to large size patio space buying some great pieces from Crate and Barrell (sofa and two chairs) and putting them in a U-Layout with the firepit in the center. Bought the Retreat Fire Pit due to the square shape and it being the smallest size to see how it works (first Tiki fire pit but we've used their torches for years, which is why I felt comfortable going with their fire pit vs Solo) and overall was very happy with the products design. Solid metal, looks clean, professionally made, love the contrast of the black and bronze features, and while a tad bit smaller than I expected (also bought the flat top so we could use as a coffee table when not using as a fire pit) but was at this stage very happy with the products design, look, and feel thinking we got our monies worth. Also bought with it the cage top, flat top, fire poker, and one box each of their Fire Bags and Fire Starter bags (to test and see if we'd prefer these vs real wood logs). Used the Tiki Fire Bag that came with the pit (also did a review on that so won't go into here) and once I lit the bag it only took a few minutes before a roaring, and I do mean ROARING fire was going. The height of the flames coming out of their SMALLEST FIRE PIT were so high I had to move the pit away from the patio furniture and moved the vented oversized patio umbrella from being directly over it out of real fear the flames coming off it aided by very small wind breezes would set something on fire. Equally we have two Belgian Malinois dogs, they have long tails that move when they walk, and I had to put them inside out of fear they'd accidentally burn themselves or their tails when walking past the fire pit. Sitting around this and enjoying heat from a gentle burning fire while having some bourbon or a beer, or chatting with family/friends is simply not an option. Even without any wind the height of the flames that come out of this are so unsafe you really risk a fire hazard. I thought the flames would die down some after 10 or so minutes, but they roared for a solid half hour before finally calming and then completely died out within minutes. So that people don't say 'well if the bag doesn't work use wood logs', we did, I literally went to a local firewood seller in my neighborhood (Buy Local, support Small Businesses!) and same thing, unsafe flame heights. We returned everything for a full refund, customer service was great in this regard and processed my request quickly, because while we love the design the actual use prevented us from enjoying our patio with a fire pit due to the fire hazard this presents.
Date published: 2023-03-16
Rated

3

out of

5
by
Roseythejetson
from
Disappointed
I did research between this one and other top sellers and went with tiki because of the pull out tray for ash, the look of it and cost. After just under 2 years it is rusty and the wood handle looks in bad shape. I have it covered with the tiki brand cover when not in use and clean it after each use. I am so disappointed because it gives great heat and makes a great fire.
Date published: 2023-03-15
Rated

5

out of

5
by
crose
from
Amazing!
I love this fire pit - it is so clean & also easy to clean - perfect for my patio & I can even take it with me if I want
Date published: 2023-03-12
Rated

5

out of

5
by
EGGS
from
Amazing addition to amazing fire pit!
I have absolutely LOVED adding the screen and poker to our fire pit collection. The screen helps block any sparks / fly always from the pit. The poker is sleek, easy to use, and has a bottle opener!
Date published: 2023-03-10
Questions & Answers
Can you use wood pellets as the primary fuel?
Thank you for your question! Our Fire Pits are designed to work specifically with the TIKI® Wood Packs or natural cut firewood. We hope this helps!
Date published: 2023-03-07
Will you be selling the cover separately? Ours has a hole in it and would like to replace it.
Thank you for the question! I'm glad we were able to speak and place an order for a new Cover for you. -TIKI Brand
Date published: 2023-02-27
What are the inside diameter of the pit? We love our current TIKI fire pit but would like a bigger one of the capacity difference is great enough.
Thank you for the question! The interior dimensions of the Reunion Smokeless Fire Pit are 19.6 inches wide by 10.57 inches deep vs the Patio Smokeless Fire Pit which are 16 inches wide by 8 inches deep. Our fire pit was designed to fit more wood logs with all the same great features as our Patio Pit. We hope this helps! -TIKI Brand
Date published: 2023-02-17
Will you be offering a heat deflector like competing firepit vendors?
Thank you for your question!  We have not yet released a Heat Deflector accessory.  I would encourage you to sign up for our email newsletter to be up to date on new product releases and discounts. -TIKI Brand
Date published: 2023-03-10
Do you take trades
Thank you for your question! We do not accept trades. -TIKI Brand
Date published: 2023-02-26
Hello, does this new Reunion model offer any features or improvements over prior models aside from its larger size? Thanks!
Thank you for your question! The main distinguishing features for the Reunion are the invertible dome (which is the grate for the fire pit engine).  The dome design is dual fuel compatible for wood pack and wood burning and aids in easier ash cleanup. -TIKI Brand
Date published: 2023-03-10
Hi--our cover to the fire pit fills up with rain in the center. Do you have a solution?
Thank you for your question!  We are currently working on the design for the tabletop accessory with the expectation to launch in 2023. We recommend signing up for our email newsletter to be one of the first to know of the new Patio Fire Pit tabletop accessory. I apologize for the inconvenience. -TIKI Brand
Date published: 2023-02-03
Does the shipping box come with the name Tiki on it? Or is it just a brown box. It is meant to be a surprise.
Thank you for your question! The Fire Pit does come in a box that says TIKI Brand and also Fire Pit on it. We hope this helps. -TIKI Brand
Date published: 2022-12-25