REAL WARMTH. REAL WOOD. REAL EASY.
The Wood Fire Redesigned: Instant light, low smoke, and easy cleanup. Spend more time actually enjoying your fire!
Product Details
The TIKI Brand Fire Pit's beautiful design was created with you in mind. Constructed with powder coated stainless steel in black and durable weatherproof materials, the Fire Pit helps keep the moments lasting longer. A patent-pending internal airflow system provides low smoke and smell, and an ash pan ensures less ash, less mess and less stress. So you get all the benefits of a wood log fire without any of the hassle. The Fire PIt can be moved throughout your backyard. It weighs only 45 pounds and can be grabbed under the top outside lip of the Fire Pit when fully cooled. A two-man lift is recommended and remember not to place on combustible surfaces.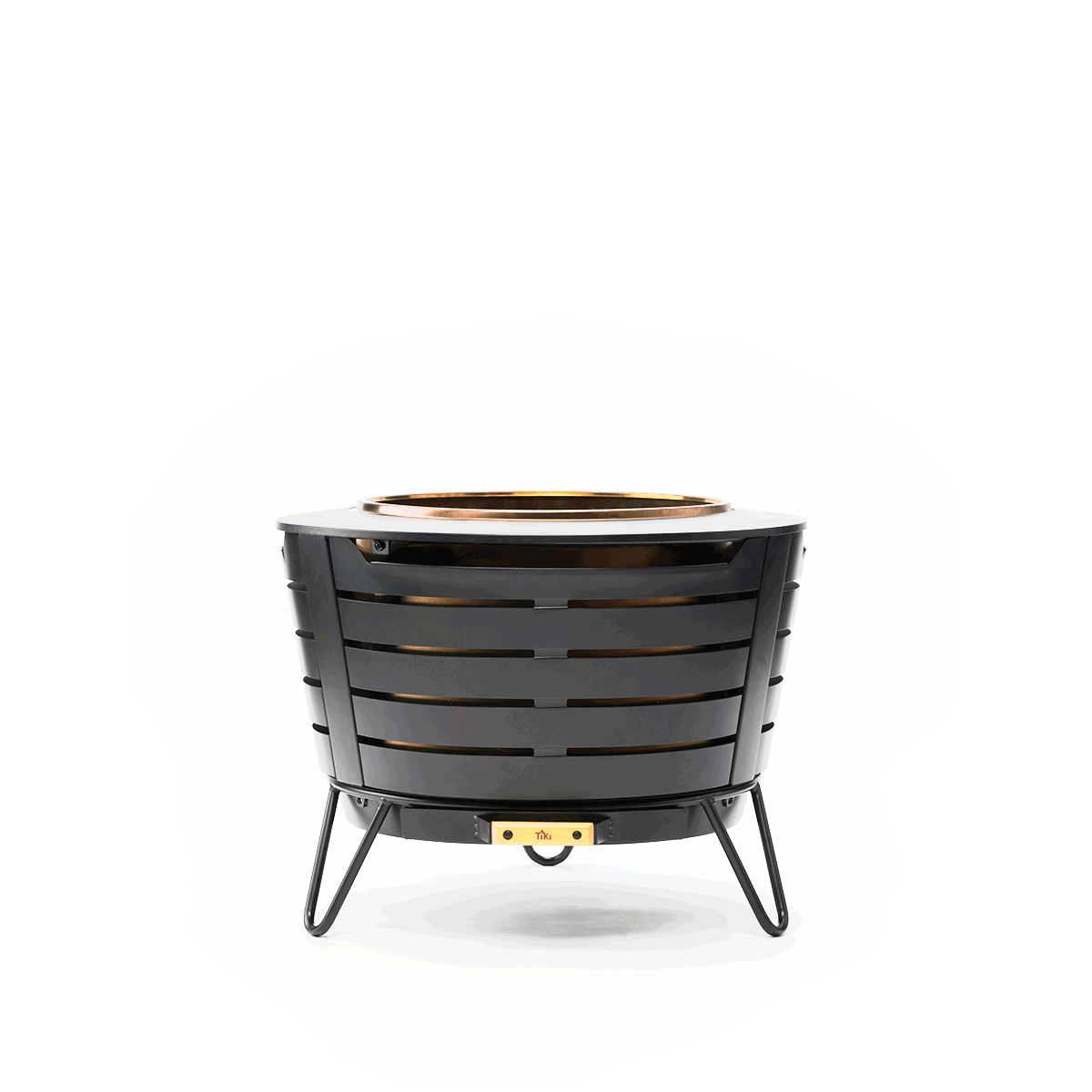 Rethink Your Fire Pit.
We love fire, just like you, but we hate the hassle of building, lighting and cleaning one. That's why we designed our own Fire Pit with a simple set up, an instant-light Wood Pack, an innovative airflow system and easy clean up. Spend less time starting a fire and more time actually enjoying it.


Instant Light
No scout badge needed. One match will provide a full flame within 5 minutes and last approximately 30 minutes long. Just enough time to unwind, re-charge and re-connect. No judgment here, you can always add another bag.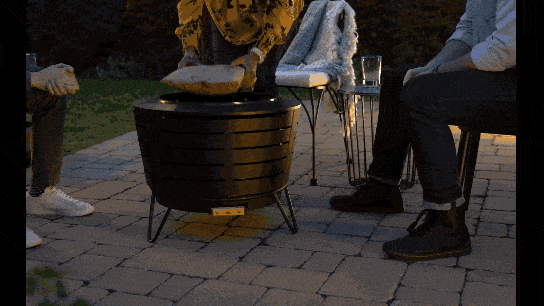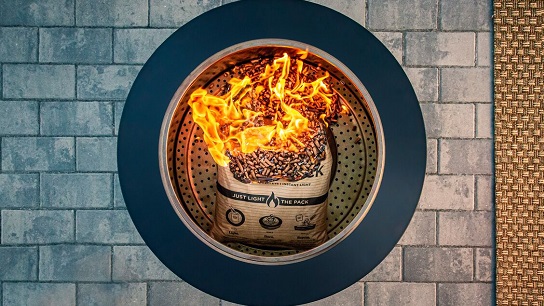 Real Wood
Burn wood, not gas. Our Wood Packs contain pellets made from sawdust sourced as a by-product of a number of manufacturing processes (like lumber, window frames). In other words, we're taking discarded materials and turning them into the highlight of your night. #Upcycling

Low Smoke
Don't let smoke smother your fun. The Fire Pit's internal airflow system yields low smoke and less ash, meaning no more dodging smoke or starting late night laundry.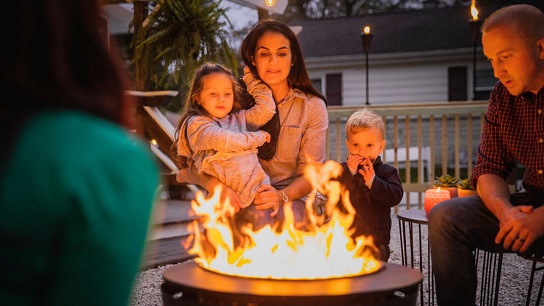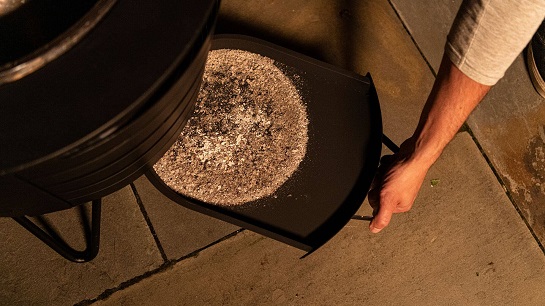 Hassle-Free
Experience the new way to Fire Pit: delivery right to your door, simple 2-piece assembly, removeable ash pan for easy clean up and a 2-year peace of mind warranty.

Built to Last
Thoughtfully selected materials make sure your pit looks great and stays that way for seasons to come. Our stainless steel burning chamber is designed to take a beating and the powder coated surround will keep your pit looking beautiful. We also include a cover to keep your unit safe from the elements when it's not in use.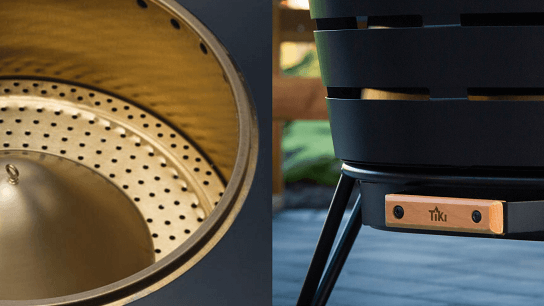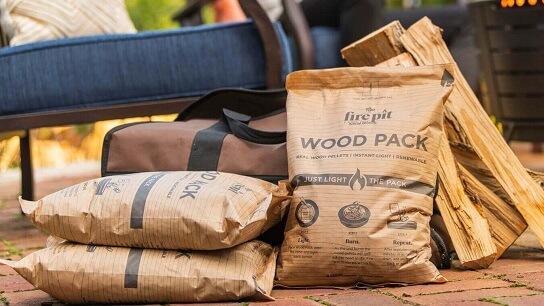 Become a Master Tender-er
You've met your match. Our Wood Packs just became your new best friend. Made in our home state of Wisconsin, these Wood Packs ignite quickly and last approximately 30 minutes, meaning no more guessing when your fire will be done. Want to go old-school? No problem. Our Fire Pit pairs perfectly with firewood, too.
Frequently Asked Questions
Q. Is it ok to use wood logs in the Fire Pit?
A. Yes. For best results, use dry, seasoned wood that has been split and cut to a length of 16 inches or less, so it fits within the Fire Pit bowl.
Q. How do I clean out the ash from the bottom of the Fire Pit?
A. Once the Fire Pit has completely cooled, remove the center cone and carefully sweep ash inside the Fire Pit through the bottom holes. Then, pull out the ash pan by its handle and dispose of the ash per your local laws/regulations.
Specifications
Contents: Fire Pit, Wood Pack, Cloth Cover, Instruction Manual, Quick Start Guide
UPC:

086861190012


Weight: 45.000000 lbs
Length: 24.75 in.
Width: 24.75 in.
Height: 18.75 in.

Customer Reviews
Rated

5

out of

5
by
Bronwen
from
Recommend
Grear produxt. Very durable ..great for any type of space.
Date published: 2021-05-06
Rated

4

out of

5
by
maddscot
from
Glad we selected Tiki Fire Pit
We did a lot of research on what fire pit to purchase between Tiki and two others. Additionally we looked at building one or a propane gas as well. I'm glad we selected the Tiki as the plain stained steel ones were good but we really did not like the looks. The Tiki looks good and works really well with the pellet pack or wood logs. We can easily move it from our fire pit spot as well as to our pool area and enjoy the snap crackle pop and smells of a real wood fire with little to no smoke. The advantage of the packs is no smoke and quick burn time, but they are costly for what they are. Convenient though… wished they had a smell to them. The advantage with logs is a controlled height of the fire and smells. Our only complaint is the ash tray has a gap in it and is not well finished. I simply used a soft mallet to get a good finish, and some JB Weld extreme heat material to seal the badly welded gap. We love it
Date published: 2021-05-06
Rated

5

out of

5
by
Pandy8399
from
Loving our patio time with this firepit
We love using this firepit. Excellent heat, just wish the opening was a bit larger so we could use standard fire logs. Very attractive and once your fire gets going, it has good heat retention. Easy to move around due to the size. I would definitely recommend.
Date published: 2021-05-04
Rated

5

out of

5
by
jshomes10
from
Glad We Chose Tiki!
Looks beautiful in our backyard around the pool. So glad we chose Tiki. I looked a long time and read a lot of reviews. Ordered early in the week and received it yesterday. Almost no assembly and ready to go. Very little smoke. Look forward to many evenings around the fire pit enjoying good wine, friends and family.
Date published: 2021-05-01
Rated

5

out of

5
by
Willie
from
Great fire pit
Quick to setup. Looks great. Pellets burn little to no smoke.
Date published: 2021-04-30
Rated

5

out of

5
by
kminnaar
from
Great fire pit!
Fire pit looks great and I love that it sits on 3 legs, makes it so it is balanced even on an uneven surface.
Date published: 2021-04-30
Rated

4

out of

5
by
Urban Pyro
from
Solid Fire Pit
I have had this fire pit for 3 weeks now and used it as many times. The pellet packs work great, but honestly, for the price they are not worth it. Just buy a 50 pound bag of pellets for wood burning stoves or use real wood. It does a surprisingly great job at burning wood efficiently. They engineered the thing to maximize airflow for a solid burn, but the term "smokeless" is misleading. There will be smoke (duh it's called a fire) but unless it is windy, it tends to rise in a more upward fashion than some other pits I've used. The only reason it did not get 5 stars from me is because the cover pools rainwater in the center and becomes a mosquito breeding ground. I would suggest that Tiki include some sort of rigid support in the center to pitch water to the edges. Overall I recommend this product.
Date published: 2021-04-28
Rated

5

out of

5
by
DebA
from
Highly recommend
We love our new Fire Pit! It was easy to put together and it looks so good on our new patio. I can't say enough positive things about it being smokeless. For once I didn't smell like a fireplace and we weren't dodging the smoke all night. Would highly recommend!!
Date published: 2021-04-27
Questions & Answers
Are there any grilling or cooking accessories for it?
Thanks for the question! We do not offer cooking accessories for the Fire Pit. You can cook over the Fire Pit if you follow all instructions, warnings, and good fire safety practices. If cooking over the Fire Pit and Wood Packs, wait until flames die down and the wood pellets begin to form glowing coals. Thank you! - TIKI Brand
Date published: 2021-05-06
What is the warranty on this fire pit .
Great question! We offer a 30 day, money-back guarantee. You can return the Fire Pit within 30 days of the Fire Pit. Thank you! - TIKI Brand
Date published: 2021-05-06
I saw an answer to someone's question that the fire pit shouldn't be placed on a paver patio...why not?? Ty!
Hi there! Since paved patios and pavers are generally non-combustible, they would likely pass our recommendation of not placing the Fire Pit on any combustible surfaces. - TIKI Brand
Date published: 2021-05-06
Hi, I am looking for a screen and I understand currently the one you sold is discontinued. What size screen (different vendor) would you suggest for the tiki firepit?
Thanks for the question! We do not have a recommendation for another screen at this time, but we will be launching a new one this summer! We encourage you to sign up for email notifications on tikibrand.com to be up to date on future product launches. Thank you - TIKI Brand
Date published: 2021-05-06
Is there a way to order a wire mesh cover for these firepits?
Thanks for the question! We do not currently have a Fire Pit Screen but are launching a new one this summer! - TIKI Brand
Date published: 2021-05-04
When can I add a second bag of pellets to get longer burn time? I understand one bag last around 30 minutes. What if I want an hour or more burn time?
Great question! When the flames stop reaching above the top of the Fire Pit, add another Wood Pack to continue burning with a brilliant flame. Thanks! - TIKI Brand
Date published: 2021-05-04
What is the best way to build a fire with wood using this pit (log cabin, teepee, etc)? Teepee seems to get smoky since the logs are above the lip. Log cabin is a challenge since you can only fit 2-3 pieces 15 inch seasoned wood in the pit. Thanks!
Thanks for the question! We recommend either the teepee or the log cabin style as long as the wood logs rest below the top lip of the Fire Pit and are dry, seasoned wood logs. We hope this helps! - TIKI Brand
Date published: 2021-05-03
Which fire pit pad do you suggest?
Hi there- Thanks for reaching out to us! A non-flammable, heat resistant mat can be placed under the Fire Pit, but at this time we do not have a specific mat to recommend. Thanks! - TIKI Brand
Date published: 2021-04-29
Fuel & Accessories