REAL WARMTH. REAL WOOD. REAL EASY.
The Wood Fire Redesigned: Instant light, low smoke, and easy cleanup. Spend more time actually enjoying your fire!
Product Details
The TIKI Brand Fire Pit's beautiful design was created with you in mind. Constructed with powder coated stainless steel in black and durable weatherproof materials, the Fire Pit helps keep the moments lasting longer. A patent-pending internal airflow system provides low smoke and smell, and an ash pan ensures less ash, less mess and less stress. So you get all the benefits of a wood log fire without any of the hassle. The Fire PIt can be moved throughout your backyard. It weighs only 45 pounds and can be grabbed under the top outside lip of the Fire Pit when fully cooled. A two-man lift is recommended and remember not to place on combustible surfaces.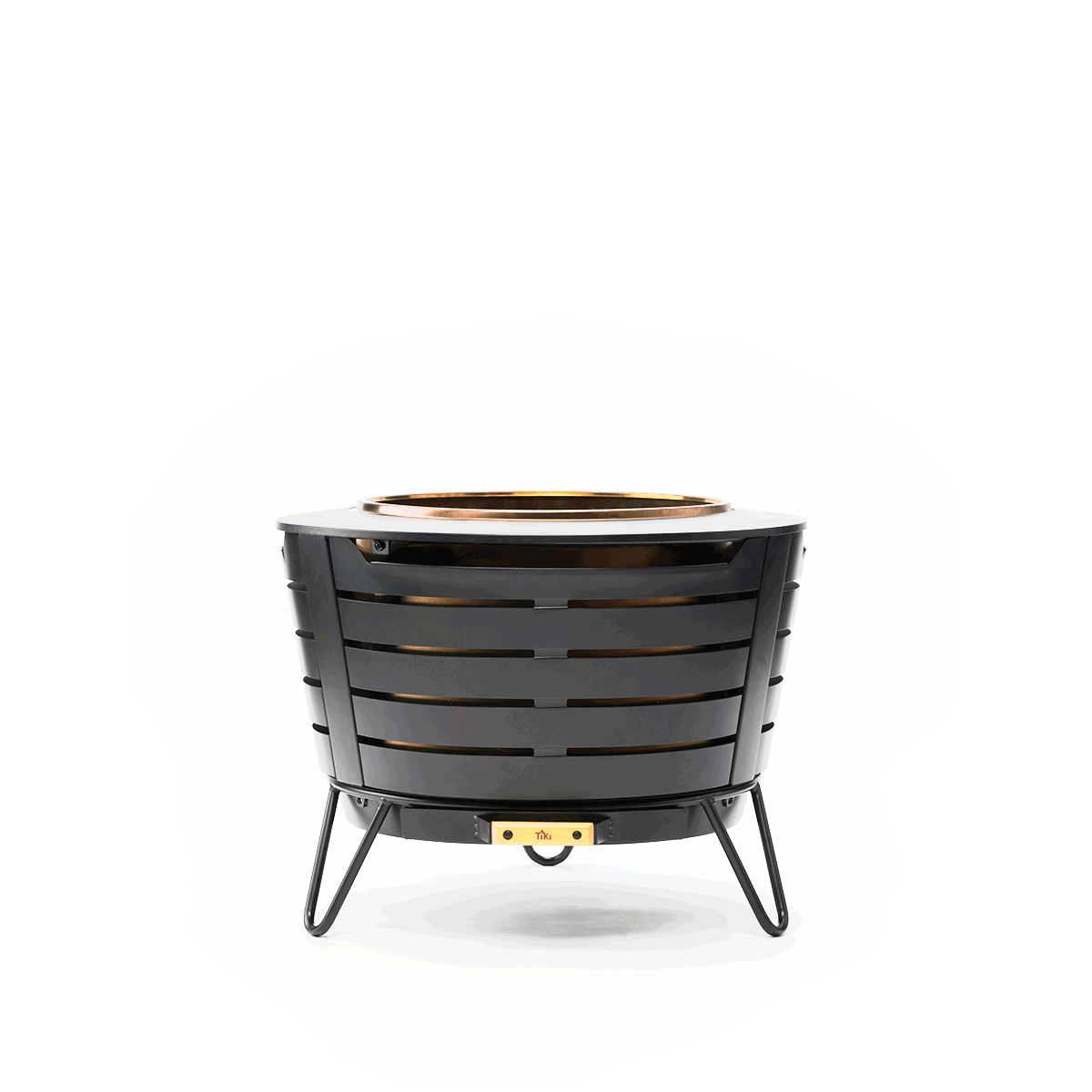 Rethink Your Fire Pit.
We love fire, just like you, but we hate the hassle of building, lighting and cleaning one. That's why we designed our own Fire Pit with a simple set up, an instant-light Wood Pack, an innovative airflow system and easy clean up. Spend less time starting a fire and more time actually enjoying it.


Instant Light
No scout badge needed. One match will provide a full flame within 5 minutes and last approximately 30 minutes long. Just enough time to unwind, re-charge and re-connect. No judgment here, you can always add another bag.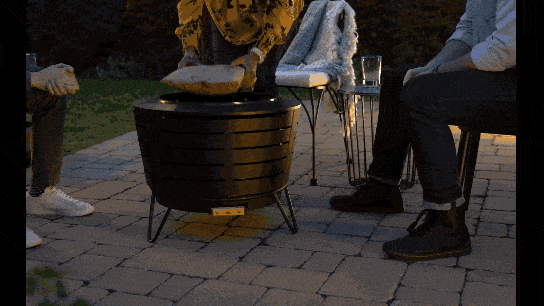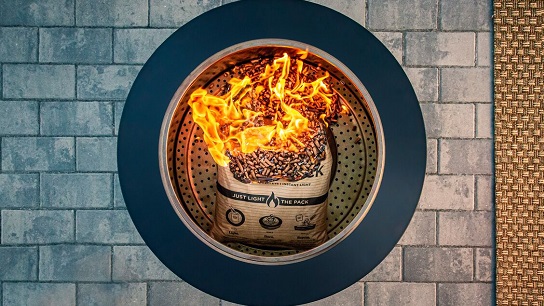 Real Wood
Burn wood, not gas. Our Wood Packs contain pellets made from sawdust sourced as a by-product of a number of manufacturing processes (like lumber, window frames). In other words, we're taking discarded materials and turning them into the highlight of your night. #Upcycling

Low Smoke
Don't let smoke smother your fun. The Fire Pit's internal airflow system yields low smoke and less ash, meaning no more dodging smoke or starting late night laundry.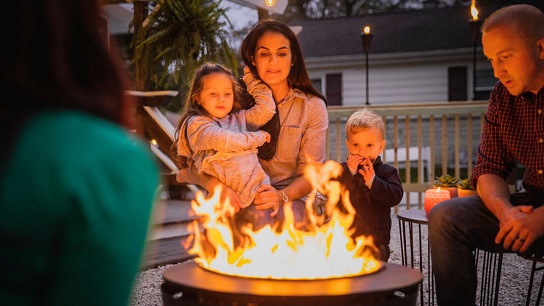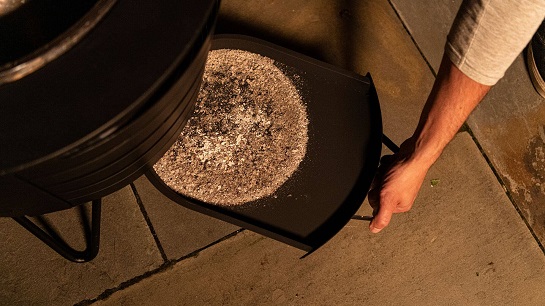 Hassle-Free
Experience the new way to Fire Pit: delivery right to your door, simple 2-piece assembly, removeable ash pan for easy clean up and a 2-year peace of mind warranty.

Built to Last
Thoughtfully selected materials make sure your pit looks great and stays that way for seasons to come. Our stainless steel burning chamber is designed to take a beating and the powder coated surround will keep your pit looking beautiful. We also include a cover to keep your unit safe from the elements when it's not in use.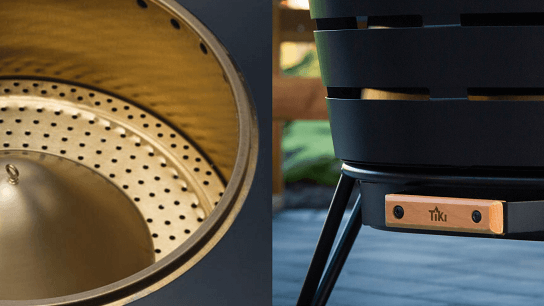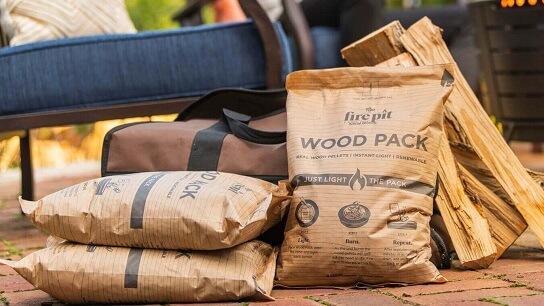 Become a Master Tender-er
You've met your match. Our Wood Packs just became your new best friend. Made in our home state of Wisconsin, these Wood Packs ignite quickly and last approximately 30 minutes, meaning no more guessing when your fire will be done. Want to go old-school? No problem. Our Fire Pit pairs perfectly with firewood, too.
Specifications
Contents: Fire Pit, Wood Pack, Cloth Cover, Instruction Manual, Quick Start Guide
UPC:

086861190012


Weight: 45.000000 lbs
Length: 24.75 in.
Width: 24.75 in.
Height: 18.75 in.

Customer Reviews
Rated

5

out of

5
by
Anonymous
from
Tiki Brand fire pit
The Tiki Brand fire pit is well worth the money spent. It has a stylish look to go well with any outdoor setting. The fire burns very well due to its design and the fire starter packs burn awesome as advertised. Very happy and cant wait for our next fire gathering with friends.
Date published: 2021-02-18
Rated

5

out of

5
by
Anonymous
from
Tiki fire pit
This seriously is amazing, lots of heat & the smoke just goes straight up, o do recommend this fire pit... Adrian
Date published: 2021-02-18
Rated

3

out of

5
by
Maryland
from
Happy but...
Nicely made and really like the look....but only 2 of the 3 holes aligned between the base and the pit you had to attach. Had to kind of force things to make the connection and get to hold.
Date published: 2021-02-17
Rated

4

out of

5
by
Reviewer
from
Great back yard fire pit
I love this fire pit. It looks stylish and the ash tray does make it easier to clean. While it is low smoke while the fire is at its peak, it is certainly not smokeless and we always end up smelling like a campfire after. The wood pack was nice but not worth the cost for a half hour burn time.
Date published: 2021-02-17
Rated

5

out of

5
by
Doctor Jimi
from
Lots of good, a minor bad, nothing ugly!
This fire pit works as well as advertised. The Good: 99% of wood burns to ash, low smoke, secondary combustion works well, plenty of heat output. The Bad: The included cover catches rain like a bowl. You have to tip it over to drain. The Ugly: not much ugly in this thing. It works great!
Date published: 2021-02-12
Rated

4

out of

5
by
kljove9191
from
Absolutely LOVE this fire pit!
I've had this fire pit for a bit now and I absolutely love it, it's sturdy, very well made, has a nicely made stand to put it on, burns extremely well and I just love the overall appearance of it as well! Would definitely recommend
Date published: 2021-02-10
Rated

5

out of

5
by
PoorBoy606
from
Amazing fire pit!
This is so nice! I've gotten many compliments from my friends and neighbors on my new Tiki Brand fire pit! Even the postman complimented it! It's definitely a nice feature and upgrade to my backyard! I placed a few chairs around to create a little campfire theme! It's great for late evenings to come out and start up the fire pit and sit around with family and have conversations! It's grilling features are wonderful too! It's nice sleek design is so appealing! I like to that it's quick and simple to start a fire in the fire pit! My family purchased this one about two weeks ago and we really like it! I'd highly recommend this brand and fire pit to anyone looking to add a little upgrade to your yard, patio, or porch! We love ours'
Date published: 2021-02-09
Rated

3

out of

5
by
SteveD
from
Great looking fire pit, some thoughts.
Very nice quality, looks great. The opening is just a tad small for pre cut firewood in a bag you can buy from the stores. The fire bags are great as well and low smoke. If you use regular wood it seems to smoke the same amount as a regular fire pit. The cover holds water in the middle when it rains, you'll have to dump it out or risk it leaking eventually.
Date published: 2021-02-02
Questions & Answers
Can you use loose hardwood pellets in the fire pit or will only your pre packaged wood packs work?
Hi there- Great question! The Fire Pit was designed to work specifically with the TIKI® Brand Wood Packs and as result, do not use with fuel sources other than the TIKI® Brand Wood Pack or dry, seasoned firewood that is split and cut less than 16" in length. We hope this helps! - TIKI Brand
Date published: 2021-02-18
Two Questions: 1. How high do the flames get with the wood pack? 2. Is it ok if this is placed approx 10 ft from a stone retaining wall?
Thanks for reaching out! The Fire Pit should not be used closer than 15 feet to any walls, structures or buildings, and should not be placed on any combustible surface such as wood, dry grass, leaves or mulch. Flames may reach a height of 3 feet above the top of the Fire Pit. Further, the Fire Pit should not be used under a patio roof, any low hanging branches, trellises or overhangs of any kind, including covered porches. – TIKI Brand
Date published: 2021-02-15
I like the looks. Can I keep it out in the weather without the cover and not worry about it?
Thanks for reaching out! We recommend storing the Fire Pit in a dry, climate-controlled environment when not in use and uncovered. If covered using the cloth cover, you can leave the Fire Pit outside. We hope this helps! - TIKI Brand
Date published: 2021-02-15
Can I use the large flame pack ($3) along with wood rather than wood packs ($11) to start a fire?
Great question! Yes, the Large Flame Starter Pack is meant to be used to start a fire using real wood logs while the Wood Packs can be used alone for a roughly 30 minute burn. We hope this helps! - TIKI Brand
Date published: 2021-02-15
Does the Tiki Fire Pit come with a metal cover to reduce oxygen and snuff out the flame?
Thanks for reaching out! The Fire Pit does not come with a metal cover. It comes with a weather-proof cloth cover to keep your Fire Pit shielded from the elements. This provides ventilation to help reduce inside condensation and wind lofting. We hope this helps! - TIKI Brand
Date published: 2021-02-15
I see that the specification says the width is 24.75 inches - but how big is the center opening where the wood and flames would be? How thick is the rim? 
Great question! The width of the Fire Pit bowl is 17" and the depth is 8". The top ring is 6" thick. We hope this helps! - TIKI Brand
Date published: 2021-02-08
How would you reccomend using the Tiki flame starter packs w/ Firewood with the Tiki Fire Pit? Do we need to use cone?
Hi there- Great question and thanks for reaching out! You'll want to start by removing the cone from the TIKI® Brand Fire Pit. Once the cone is removed, place the Large Flame Fire Starter Pack in the middle of the Fire Pit. Using 3 pieces of dry, seasoned firewood build a teepee configuration in the bowl of the Fire Pit as its design will help support the teepee configuration. Simply light all four corners of the bag and enjoy a large flame within 5 minutes. We hope this helps! - TIKI Brand
Date published: 2021-02-05
How does this hold up in coastal areas with the salt air?
Hi there- Thanks for your question! The TIKI® Brand Fire Pit is applied with a weatherproof powder coating that is able to withstand the elements and we also provide a cloth cover to helps protect your pit when not in use. Additionally, if you aren't planning on using your Fire Pit for an extended period of time we recommend storing your pit away from the elements. We hope this helps! – TIKI Brand 
Date published: 2021-02-05
Fuel & Accessories