These days, a fire pit is more than just a place to keep warm or to tell tales of yore. Now, a fire pit is something that can be the focal point of your backyard getaway, an eye-catching centerpiece that adds the finishing touch to your patio, or a nice addition to your collection of TIKI® Brand repellent torches.
The Perfect Poolside Prop
Is it possible to make sitting by the pool even more relaxing? Cool off with a dip in the pool and then warm up fireside. The nice thing about a movable fire pit is you can move it around your pool area as you see fit.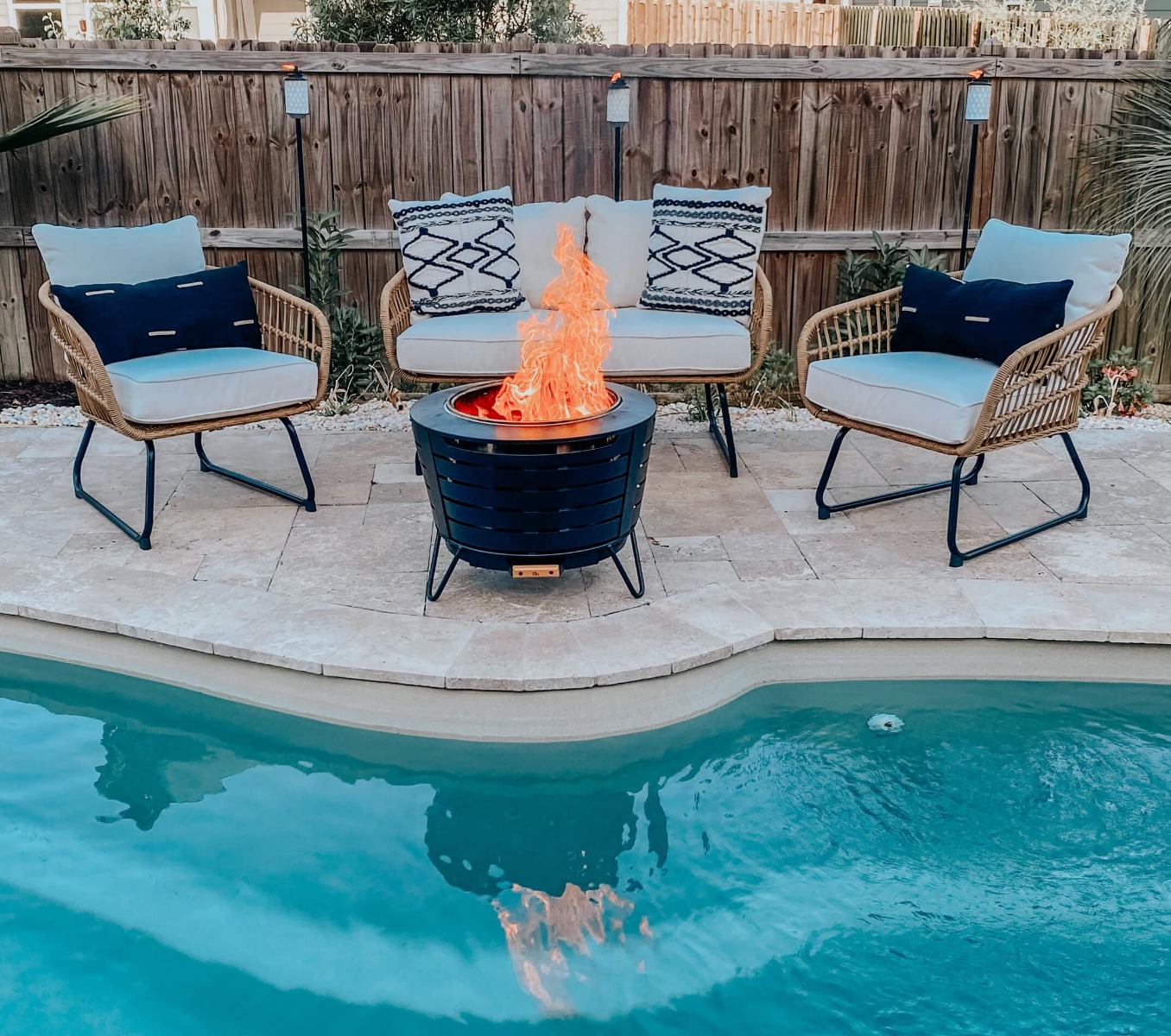 The Centerpiece
Using your fire pit as the centerpiece of your outdoor space is a great way to complete the look of your patio. A sleek design means that it will draw attention without being overbearing. The TIKI® Brand Patio Smokeless Fire Pit, for instance, is versatile enough to fit spaces of many sizes. Whether you're revamping a small patio space or working on a backyard remodel, a fire pit fits anywhere.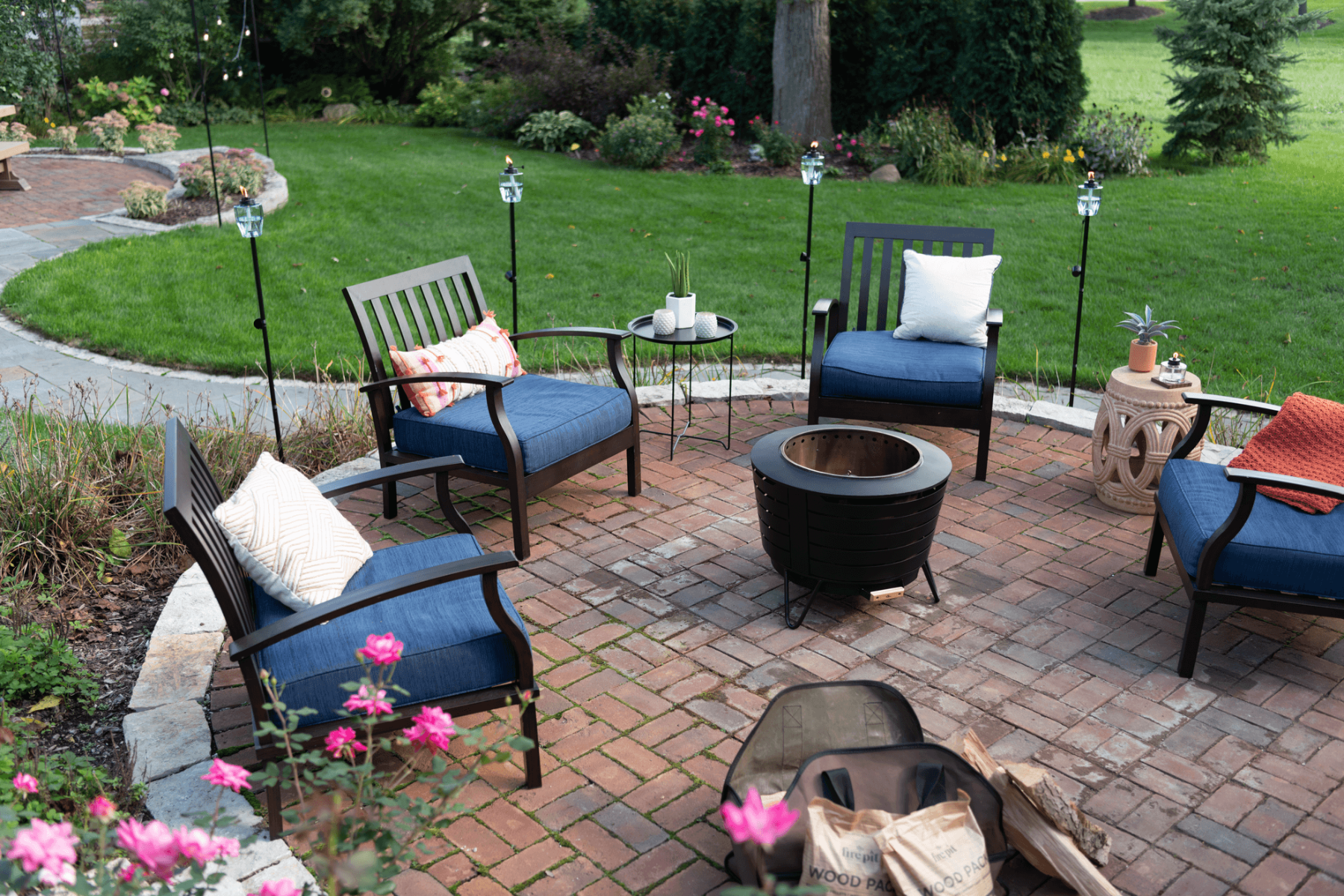 The Family & Friends Gathering
There are plenty of ways to gather friends and family together, but what better way to do so than around your fire pit? A fire pit allows you to entertain for as little or as long as you wish. All you need to do is pull up your favorite chair and surround yourself with your favorite people.
TIKI® Brand Wood Packs are simple to light and provide a full flame in 5 minutes, lasting for about 30 minutes. You can keep the fire going by adding another Wood Pack or by switching over to traditional wood.
TIKI Brand now has the cast iron Fire Pit griddle that allows you to one up your hostess game. You can offer outdoor dining options for your friends and family to enjoy and still get that warmth from the fire.
While a fire pit can be the focal point of your backyard, it never hurts to add some outdoor décor to jazz up your space. Here are 5 tips to make the most of your space.
Adirondack Chairs
Take some time to relax in Adirondack chairs around your smokeless fire pit. These seats are great for decorating your backyard and are the perfect fit for around a fire pit.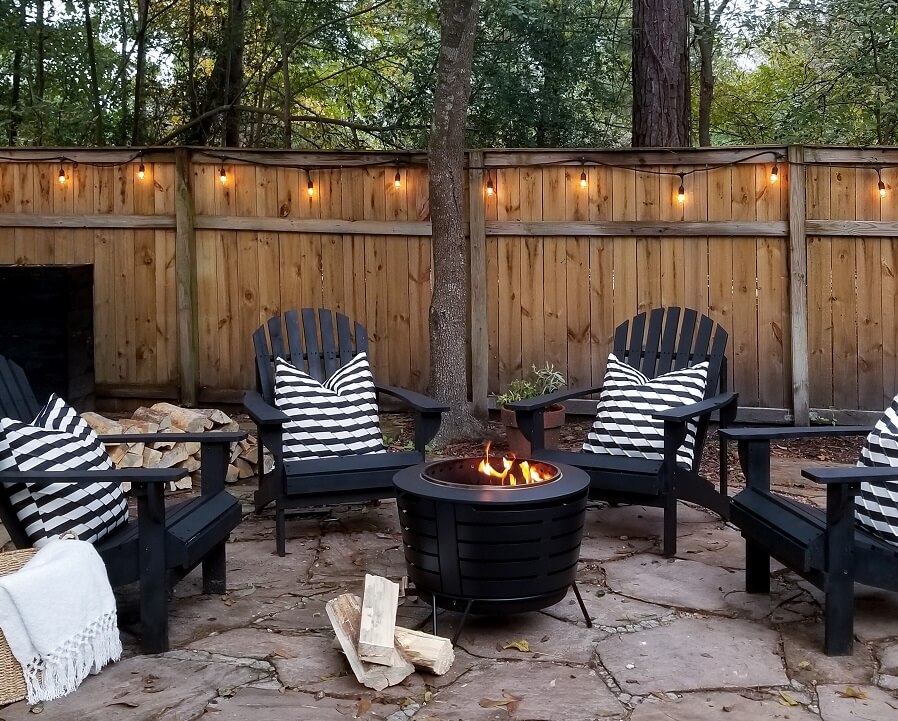 Coffee/End Tables
Being able to easily grab drinks or snacks is one of the best ways to indulge by a campfire. Whether you need a spot for coffee or s'mores, having an end table adds some functionality to your fire pit.
Keep the party going by adding a tabletop accessory to your fire pit. This allows your guests to use the pit on those too-hot-for-a-fire days.
String Lights
Why not add a little ambiance along with your firelight? String lights amplify any space and are the perfect outdoor accessories for a gathering. TIKI Brand BiteFighter LED Mosquito Repellent String Lights provide mosquito repellency so your guests can go home without mosquito bites.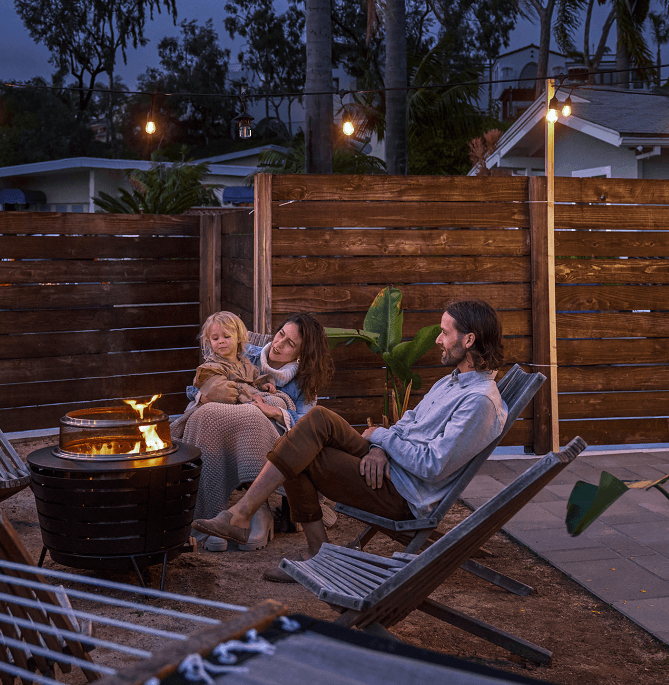 TIKI® Torches
Give your fire pit a nice chill vibe by placing a few TIKI® torches around the perimeter. Not only will they help light up the night, they help keep the mosquitoes at bay as well!
By the Grill
Nothing completes an evening of backyard grilling better than sitting by the fire. Grilling steaks or hot dogs on a gas grill and unwinding fireside is the perfect end to any meal.
Working on a backyard makeover can be a daunting task. If you aren't sure where to start, try selecting a fire pit that fits your vibe and the rest will fall into place.
Make it Match
There is something about having a cohesive look that really ties a space together. If you love having matching sets of your outdoor accessories, consider selecting torches to compliment your fire pit. The TIKI® Brand Patio Smokeless Fire Pit has a set of matching TIKI® torches that nicely pair with the pit. The Easy Install Metal Horizon Torch matches the TIKI Brand Smokeless Fire Pits to give your space a nice, matching look. For an added bonus, use with TIKI® Brand BiteFighter Torch Fuel for proven mosquito repellency.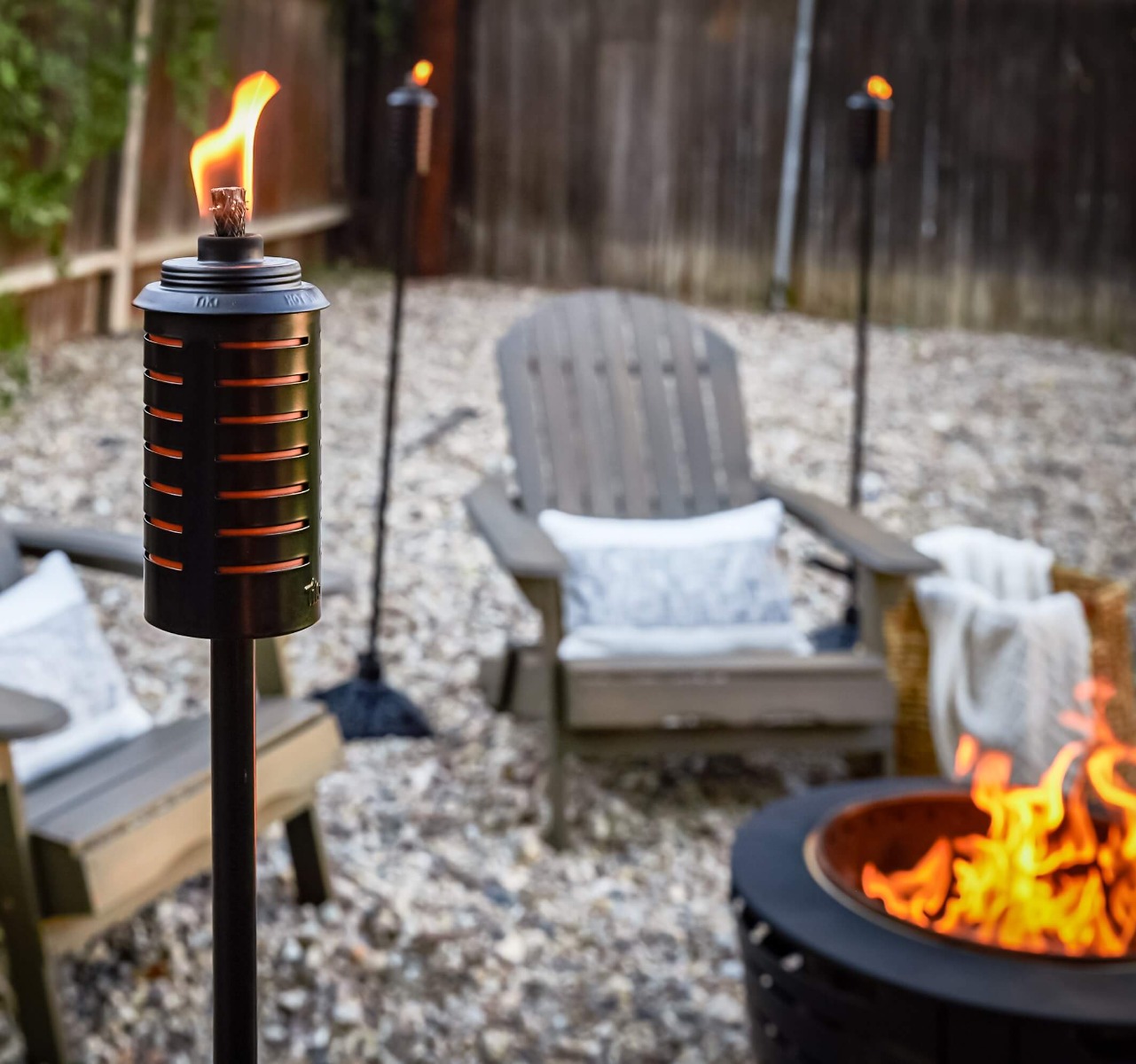 Keep it Simple
An over-cluttered backyard not only means more to keep track of, but it can also mean more stress! Consider getting rid of excess clutter and create a sanctuary instead of a storage area.
Decorate with a few torches or string lights to create a beautiful and simple space for you to enjoy. Citronella candles also work as insect repellents and are a simple way to complete the look.
Camping Centerpiece
Whether you're on the road or camping in your own backyard, a fire pit is a great way to decorate your space.
Portable pits have increased in popularity in the last few years. What better way to complete your campsite than with your very own fire pit?
Portable pits like the TIKI® Brand Retreat Smokeless Fire Pit offer easy clean-up to make your fire pit experience as enjoyable and hassle-free as possible.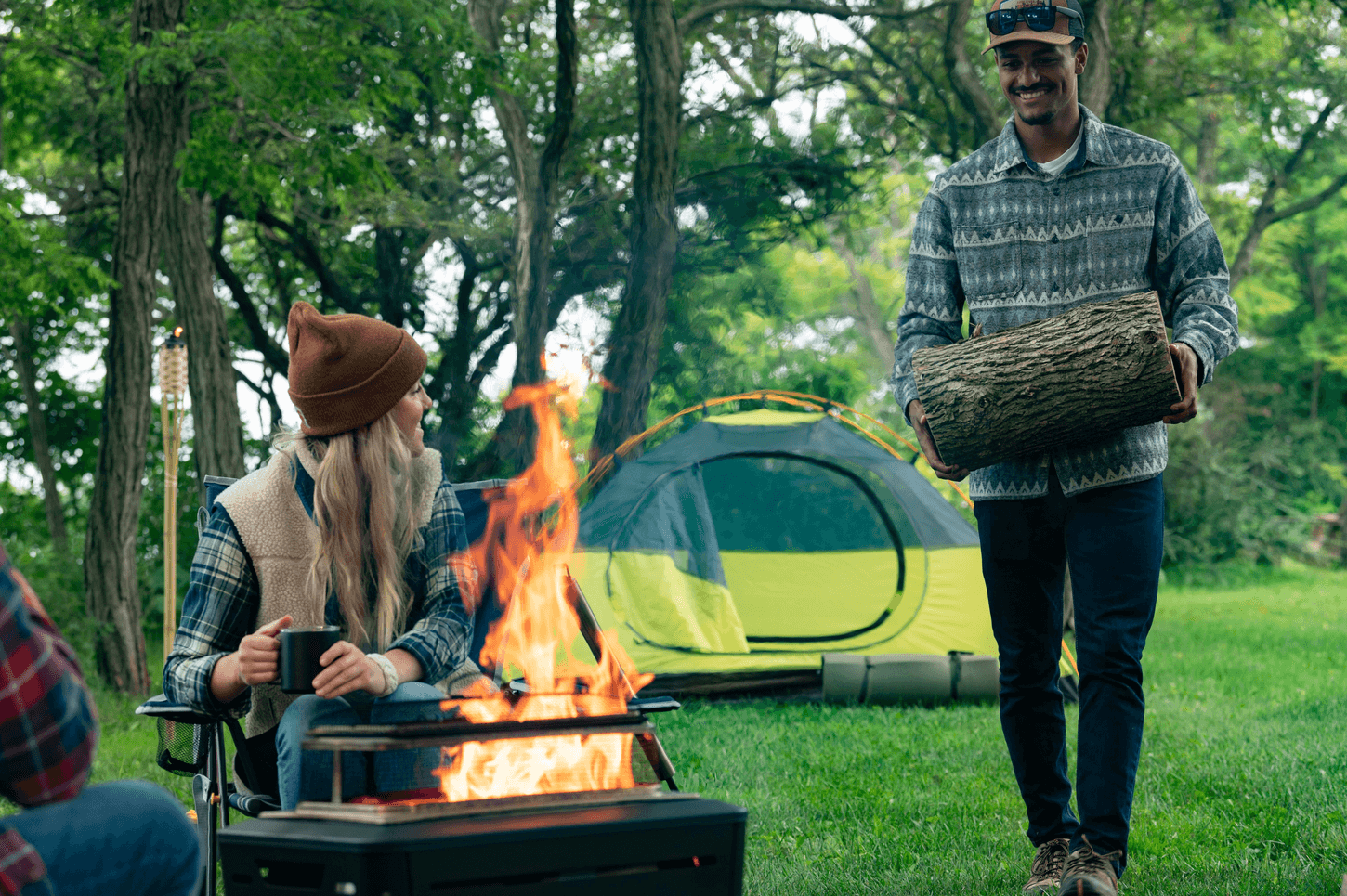 Incorporate a few of these tips into your own backyard and you can fire pit in style in no time!