BITEFIGHTER LED STRING LIGHTS
SEASON-LONG MOSQUITO PROTECTION*
These innovative, new string lights add warm ambiance and a zone of protection with proven mosquito repellency.*
Product Details
3 Reasons You'll Love Our String Lights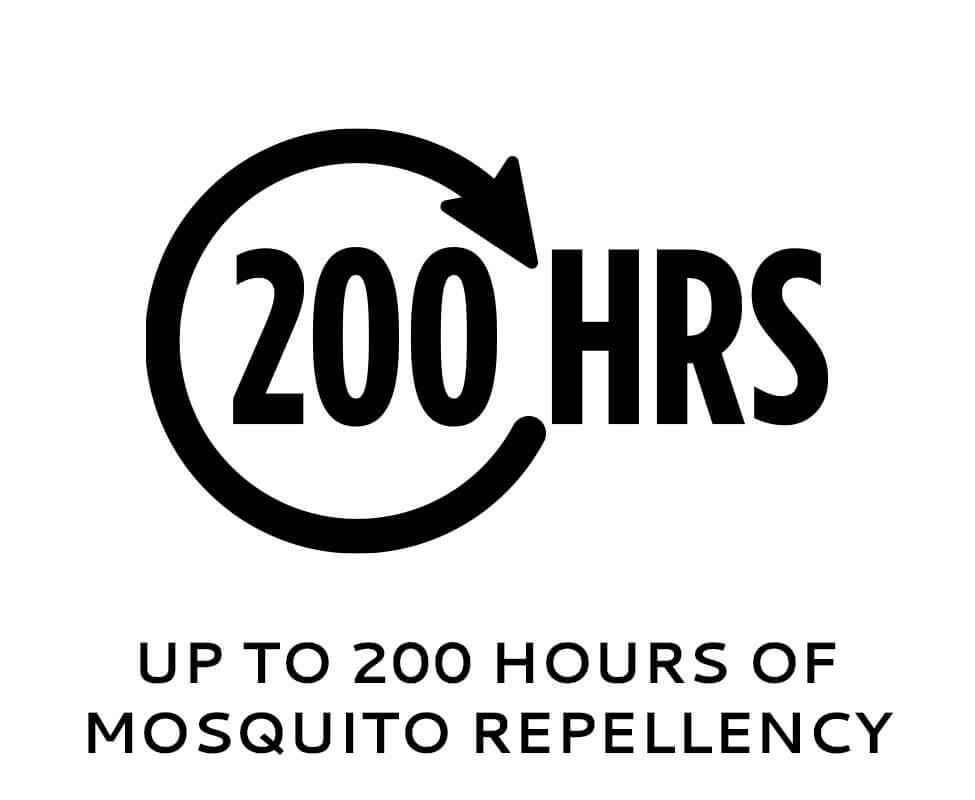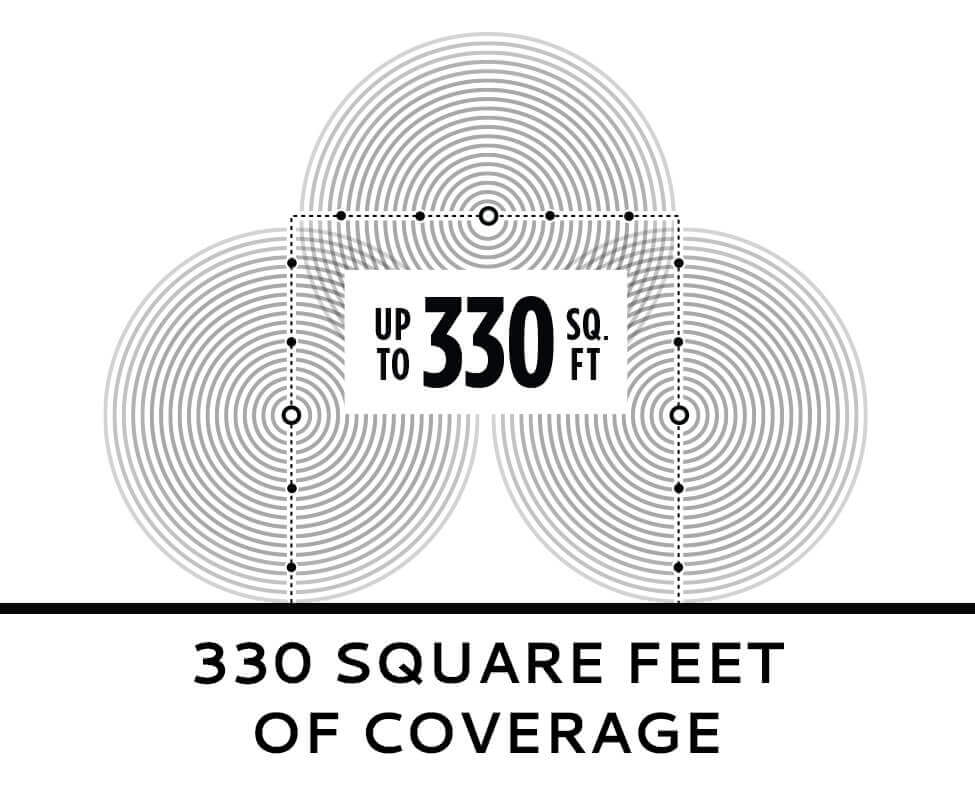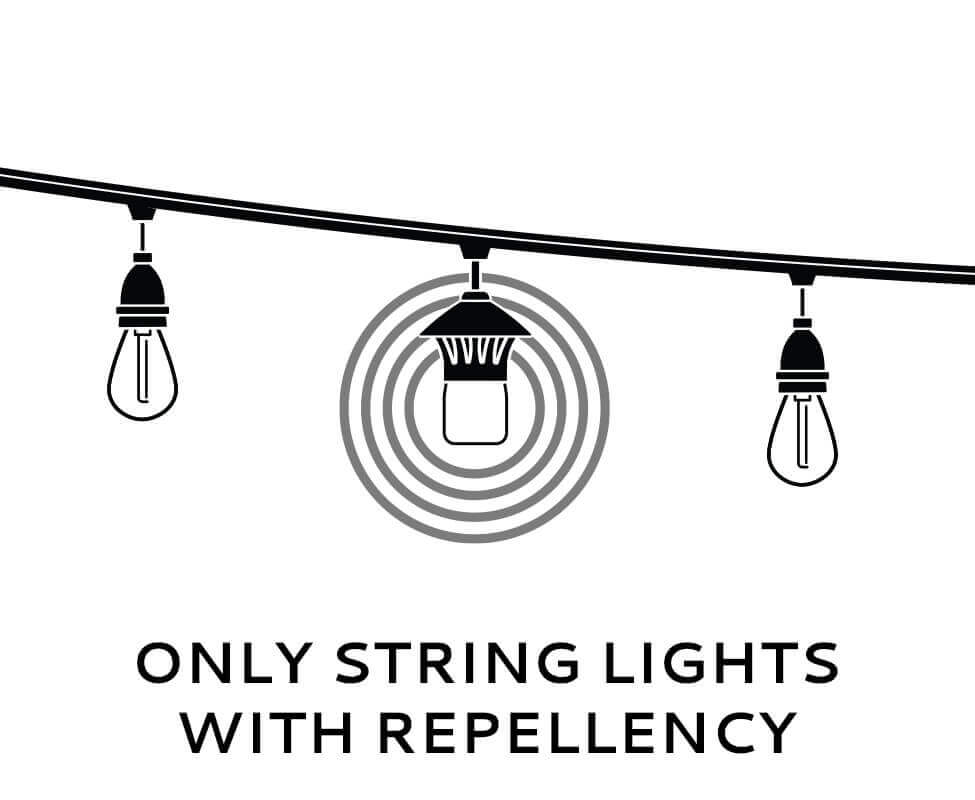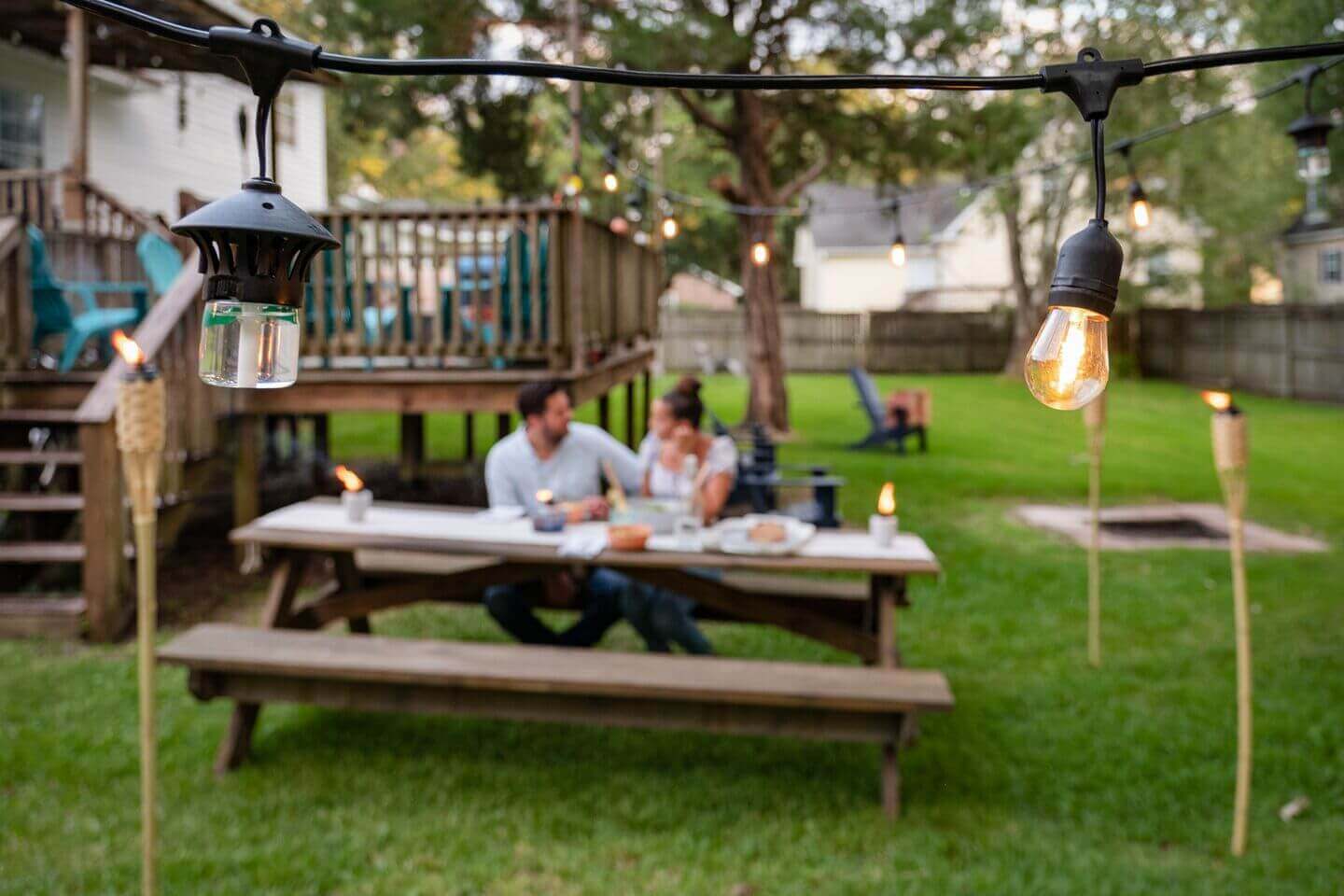 A Bright, New Idea
Enjoy season-long mosquito repellency without the mess and odor of sprays and creams. Our one-of-a-kind string lights offer a silent and invisible zone of 330 square feet of protection. Welcome your family and friends while driving away mosquitoes with these string lights.
Turn on Ambiance, Turn off Mosquitoes®
All the desired ambiance of string lights with the added benefit of mosquito repellency. With just the flip of a switch, repellency is established in 15 minutes. The warm-toned, 2200K shatter-resistant LED bulbs set a cozy mood. Repellency can be turned off when you don't need it but still want to enjoy the ambient lighting.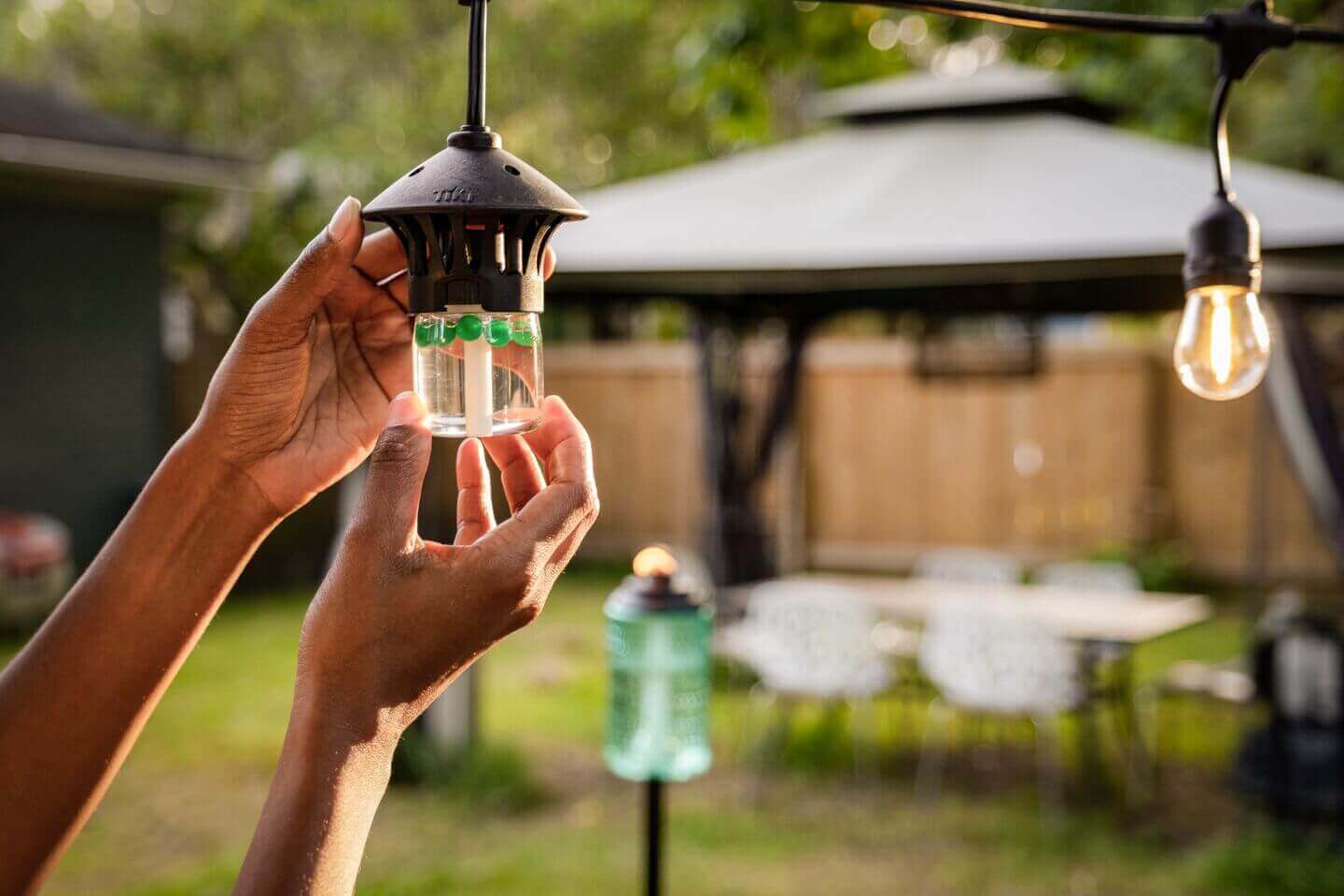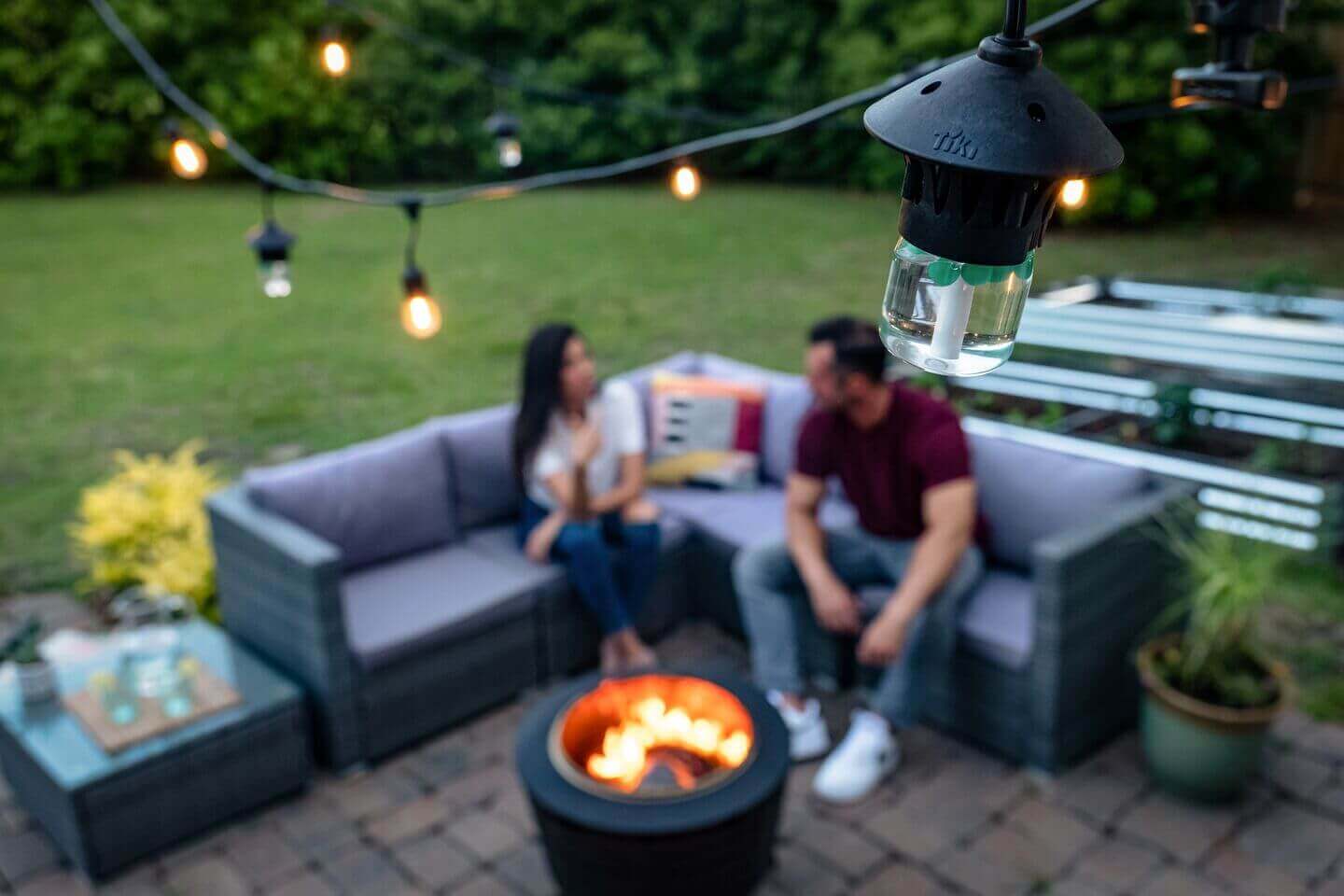 Customizable Coverage
Configure your TIKI Brand BiteFighter® LED String Lights numerous ways for the optimal coverage based on your outdoor space. If you have a larger area, connect up to eight string lights from end to end. Whether you're hanging the lights from trees, trellises, deck rails, or porches, there is a configuration for everyone. Install these string lights in a square, zig zag, or line configuration no higher than 10 feet above the ground for optimal mosquito repellency.

Customizable Coverage
Whether you hang them from a deck, trellis or between trees, each string light offers a variety of configurations. Add another string for even more design options. For best results, hang lights no higher than 10 feet above the ground.
Frequently Asked Questions
Q. How do I hang up BiteFighter® LED String Lights?
A. BiteFighter® LED String Lights should be hung using supporting hardware such as hooks, support mounts and/or a guide wire (not included). To span less than 24 feet between supports, we recommend installing supporting hardware at regular intervals. To span more than 24 feet between supports, use a guide wire. Be sure to not pinch or damage the BiteFighter® LED String Lights when installing and do not block any LED bulb sockets or Mosquito Repellent Diffuser Shades.
*Based on studies that demonstrated a reduction in mosquitoes compared to untreated controls. Use as directed. Efficacy may be affected by weather conditions, configuration and distance from replaceable repellent pods, and individual physical factors. Season assumed as 200 hours or 90 days at an average use of 2.4 hours per day.
Specifications
Contents: 36-Foot String Lights, 14 LED Bulbs, Three Repellent Pods, Replacement Fuse
UPC:

086861190241


Weight: 6.00 lbs
Length: 36.00 in.
Width: 2.00 in.
Height: 7.75 in.

Customer Reviews
Rated

5

out of

5
by
laura hatzaw
from
great quality string lights
I love this string lights. Those lights are only for outside use. Now we can enjoy our time outside and not worry about mosquitos. With just the flip of a switch, mosquito repellency is established in 15 minutes. Repellency can be turned off when you don't need it but still want to enjoy the lighting. Those string light are waterproof so don't need to worry about rain. It was very easy to set up, instructions are very helpful. Those lights are 36-foot string lights with 3 repellent pods designed for outdoor use. This product it is very high quality product, very well made that we enjoy using in our backyard.
Date published: 2022-11-03
Rated

5

out of

5
by
eknielsen
from
Really great
First of all, these are perfect lights for my covered back porch. They're really bright and make it a fun place to entertain at night. I also really like that the mosquito repellant pods are only every 5 feet or so, so there's plenty of light while still getting coverage from it. It's also great to have a switch to activate that part outside of the lights, so I can have the lights on outside of mosquito season without wasting the repellant. I wouldn't say that this gives me complete protection from mosquitos as someone who is often eaten alive by them, but it does make a difference.
Date published: 2022-10-27
Rated

5

out of

5
by
Lika
from
Great lights!!
Wow! These absolutely blew me away. After setting them up, I couldn't wait for nightfall, and once it was finally night, I turned them on for the first time and was blown away with how bright and affective they are at repelling bugs and setting the ambience. Living in South Texas, bugs are a real issue. But these seem to do the trick and keep them away, while I can still sit outside and enjoy the evening. Great product!
Date published: 2022-10-23
Rated

5

out of

5
by
Luckymom
from
Functionality with a vintage feel
My whole family loves the Tiki Bite Fighter LED string lights!! Hey have enabled us to spend hours outside bite free! We are a family that really enjoys the outdoors. We spend time outside grilling, with a fire in the fire pit, or just sitting around talking. I usually have to make sure that everyone is coated in bug spray before we go out, because there are lots of mosquitoes in our back yard. These lights have changed the way we do outdoor gatherings! We have used these lights about a dozen evenings and no one has had a single bite in all that time!! It covers an area large enough for us to all comfortably gather by the deck, but if we want to, we can add additional strands to this one later. They plug into each other so you don't have to have an outlet for each one. After all the time we have used the lights and repellent, the repellent jars still look nearly full. I feel confident that as long as they aren't left in direct sun, they will work as long as advertised. They were very easy to set up, I took the light strand out of the box and hung it around my deck with tie wire I had at home already. Within 15 minutes, I had the light strand hung, bulbs put in and repellent canisters put in. I like the slightly vintage look to the bulbs, they are very functional but also add a soft light and vintage look to my back yard. The switch allows you to turn off the repellent part of the strand when the bugs aren't out and just use the cute lights. I appreciate being able to maximize use of these lights without being wasteful of the fluid when we don't need it. Overall my whole family is really happy with these lights and the repellent. They have been a wonderful addition to my backyard and outdoor lifestyle
Date published: 2022-10-15
Rated

3

out of

5
by
Paul Ashton
from
Nice lights but life of pods varies greatly.
The lights are great but this is a review about the pods. First, the pods work, I had one fail and develop a leak. TIKI sent me replacements which is good but when I contacted them through their online contact app I also asked about the shelf life of the pods and how I should store the partially used ones through the winter. They responded by notifying me that my case ticket would be closed if I was satisficed with their response. I pointed out that they didn't answer my questions but have not heard from them. Now, the pods. I have three strings. Some of the pods are exposed to the sun, some are shaded because they are under the soffit of the garage. after a season the shaded ones are still half full. the ones exposed to the sun are nearly empty. Simply put there's no way pods exposed to full sun will last 200 hours. As many have said, they are expensive and TIKI should be working on refillable pods. They clearly refuse to even respond to the many comments that suggest that.
Date published: 2022-10-11
Rated

5

out of

5
by
dl111
from
Such a wonderful ambiance on my patio!
I had been looking for lights for around the backyard patio. The bite fighter string lights are just what I was searching for! The bonus of mosquito repellant was such a plus. Living in the south, we deal with mosquitos nearly year-round. The bulbs were very easy to install. Just screw them in. My 13 year old helped me with these. The mosquito repellant is a little messy to install but washes off the skin easily. The cord is very heavy duty and I like that you can turn the mosquito spay off with a flick of the on-off switch. I haven't had to change the refills yet but like the fact that they will work without it. These lights have brought some a warm ambiance to my patio. I really love them!
Date published: 2022-10-11
Rated

5

out of

5
by
jassy22
from
Works and well made!
This TIKI Brand 36-feet BiteFighter LED String Lights is the perfect size for my 12x12 back deck. I did the U shape configuration and I am very happy with it. I also live in the South and we have tons of mosquitos down here so I am pleased that I can sit on the back deck and finally enjoy it without having to worry about the bugs eating me alive. This LED string light is heavy duty! The bulbs are shatter resistant and very well made. Installing the insect repellent is easy although I had a spill the first time. I had to be very careful re-doing it and eventually got the hang of it. I also noticed that once the repellent is on, it is misting the content in a very subtle way. Overall, I am very pleased with the LED string lights. The only drawback is the price to change the refills. If you live in the South and stay in your porch or deck a lot during summer time, the refill will only last so long. Other than that, I am still giving it 5 star because it does work and it is very well made.
Date published: 2022-10-10
Rated

5

out of

5
by
Raven
from
You'll love these lights if you have mosquitoes
In Florida we recently dealt with Hurricane Ian and because of the flooding, we were seeing tons more mosquitoes than we normally do so we were very excited to hook these lights back up. The best thing about them are the mosquito repellent lanterns. They look really nice and actually work. We noticed a huge difference in the number of bugs from the night before to the next. The lights match our aesthetic and have definitely improved the atmosphere in our backyard. I love that we have the option to choose whether we want the lanterns on or not. When the weather cools off, there's no need to have the repellants working since there won't be many, if any, bugs flying around. We love everything about these lights and we're trying to get more.
Date published: 2022-10-09
Questions & Answers
I have three bite fighter strings strung together that are hung year around. One of the bulbs has a slight bit of water in it. It doesn't have any apparent damage and it still works. Should I replace it? Thanks
Thank you for your question! We are sorry to hear about this experience. Please create a case at tikibrand.com/contact so our customer service team can assist further. Thanks! -TIKI Brand
Date published: 2022-11-28
I live in the northeast and with winter approaching I'd like to leave my lights connected outside on my patio. If I do this should I take the repellent pods off or keep them on (could they crack?) or, do you recommend taking it all down? Thanks
Thank you for the question! The String Lights have been tested and can be left installed throughout winter. The Repellent will not freeze. If you plan on taking down the String Lights during winter, we recommend removing the Repellent Pods and replacing the caps. Store the Repellent Pods away from heat sources and away from food. Remove the bulbs from the string lights to avoid scratches. Store the String Lights and Light bulbs in a dry place. If the Pods are left installed in the String Lights, we recommend keeping the Repellent Pods upright. We hope this helps. -TIKI Brand
Date published: 2022-11-07
Are these UL or CuL approved?
Thank you for your question! Our ODL BiteFighter String Lights use UL compliant components. The complete assembly is validated and manufactured per UL standards and checked by international recognized ETL laboratories. -TIKI Brand
Date published: 2022-11-04
Are you able to ship to California now?
Thank you for your question! Our BiteFighter LED String Lights can be shipped to California. The BiteFighter LED String Lights can be purchased on either our website, tikibrand.com or Amazon. -TIKI Brand
Date published: 2022-10-31
Can the liquid pods be refilled or do you need to purchase new pods when they run empty
Thank you for your question! The BiteFighter Repellent Pods in the String Lights should last for up to 200 hours. The Repellent Pods are not refillable but can be replaced with new Repellent Pods. The replacement Repellent Pods come in a 3 pack of Pods, which would fit one strand of String Lights. These Repellent Pods can be found under the "Outdoor Lighting" tab or the "Parts & Accessories" tab. I hope this helps. -TIKI Brand
Date published: 2022-10-17
I have a configuration where I really only need 2 of the repellant dispensers...can I leave the 3rd one without a repellant pod, or will that cause damage
Thank you for reaching out! When the Repellency is turned on, the 3 diffusers on the String Lights will be on. You can install just one of the pods where you would want to use it. One repellent pod would provide a 6-foot radius. Please see our product page for an installation diagram for the typical coverage pattern. I hope this helps! -TIKI Brand
Date published: 2022-09-16
What is the length of the cable from the electrical plug, to the first light? I want to understand whether this will reach appropriately from my outlet, to the pergola I am hanging this from.
Thank you for your question! The length from the plug to the first light would be 2 1/2 feet. We hope this helps! -TIKI Brand
Date published: 2022-08-29
Is it possible to turn off the lights and have only the mosquito pods on, for mosquito-free daytime fun?
Thank you for your question. In order to use the repellency, the BiteFighter LED String Lights need to be plugged in and turned on. The repellency on/off switch should be turned to on. We hope this helps. -TIKI Brand
Date published: 2022-08-08