BITEFIGHTER LED STRING LIGHTS
SEASON-LONG MOSQUITO PROTECTION*
These innovative, new string lights add warm ambiance and a zone of protection with proven mosquito repellency.*
Product Details
Get comfortable and stay comfortable. Warm-toned, 2200K shatter-resistant LED bulbs set a cozy mood, while patented BiteFighter™ repellent pods create convenient, odorless, silent, invisible and effective season-long mosquito protection.* Just flip a switch to protect a 330 square foot area from mosquitos. BiteFighter™ LED String Lights are perfect for use outdoors on patios, decks, unenclosed porches, walkways and other areas where mosquito protection is desired.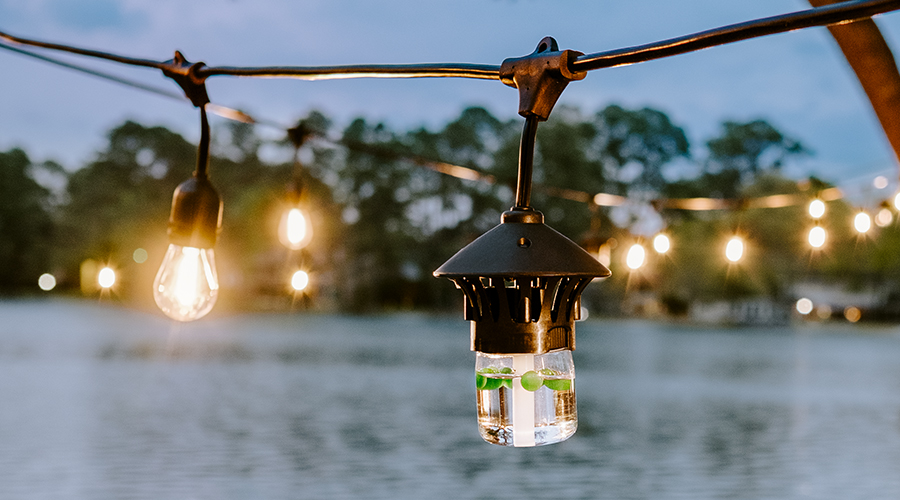 A Bright Idea for Repelling Mosquitos
Creating a beautiful, care-free yard has never been easier. These durable string lights drive away mosquitos while they welcome family and friends. BiteFighter™ repellency pods nestled among shatter-resistant LED bulbs work hard to protect you while suspended out of your way. Purchase includes a 36-foot string light with three integrated repellent diffusers, three BiteFighter™ Repellent Pods, 14 LED bulbs (2 extra) and one replacement fuse.
Long-Lasting Repellency
No mess, no sprays, no creams. Instead, BiteFighter™ pods are pre-filled with proven mosquito repellent offering up to 200 hours of repellency.* That's 90 nights for 2.4 hours per night. Fluid level indicators make it easy to identify when pods finally need replacing. Set up once and surround yourself with ambiance, not mosquitos.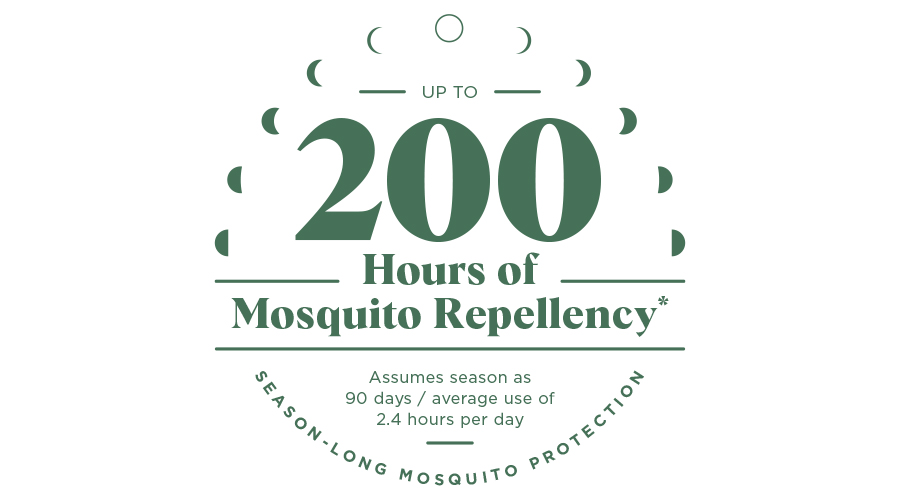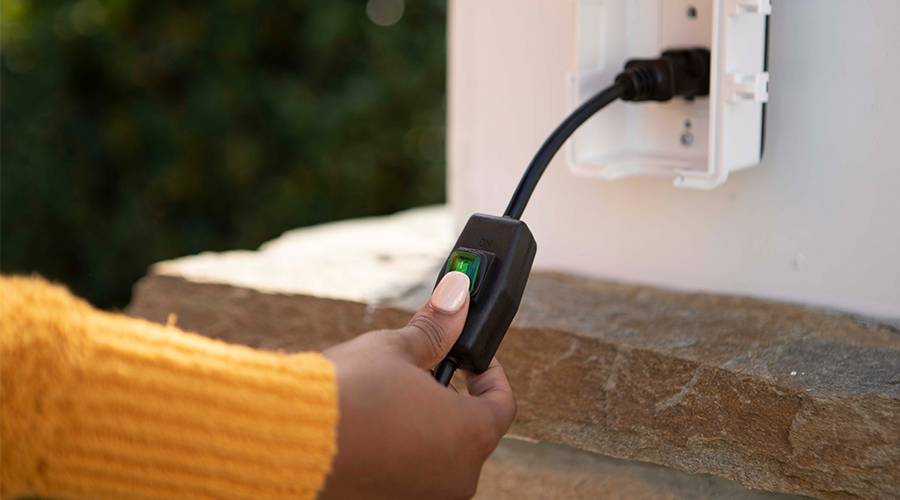 Protection With the Flip of a Switch
Just flip the switch and mosquito repellency will be established in 15 minutes. Repellent can even be turned off when you don't need it, conserving the fluid and extending the time until replacement. Pods are easy to replace and come with TIKI®'s satisfaction guarantee.
Turn on Ambiance, Turn off Mosquitos
Each 36-foot string provides up to 330 square feet of mosquito repellency. Want to cover more territory? You can connect up to eight BiteFighter™ LED string lights from end to end.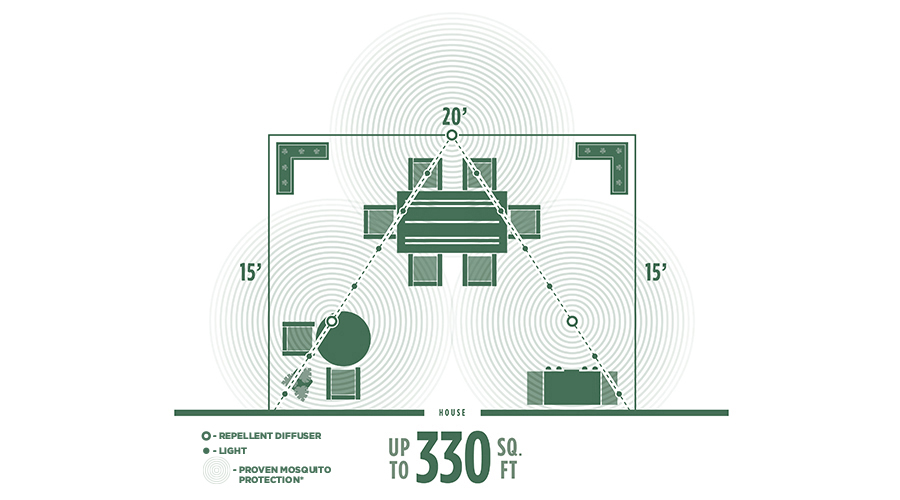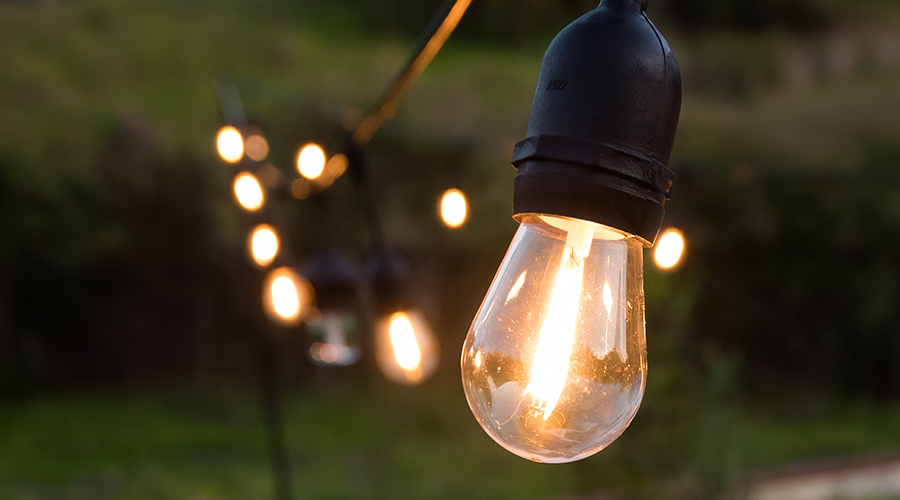 Warm, Inviting Glow
The LED bulbs create the perfect ambiance for your celebration, casual gathering or intimate evening. Bulbs are shatter-resistant and easy to install and replace. Two replacement blubs are included. Even if one bulb burns out, the string lights stay lit.

Customizable Coverage
Whether you hang them from a deck, trellis or between trees, each string light offers a variety of configurations. Add another string for even more design options. For best results, hang lights no higher than 10 feet above the ground.
Frequently Asked Questions
Q. How do I hang up BiteFighter™ LED String Lights?
A. BiteFighter™ LED String Lights should be hung using supporting hardware such as hooks, support mounts and/or a guide wire (not included). To span less than 24 feet between supports, we recommend installing supporting hardware at regular intervals. To span more than 24 feet between supports, use a guide wire. Be sure to not pinch or damage the BiteFighter™ LED String Lights when installing and do not block any LED bulb sockets or Mosquito Repellent Diffuser Shades.
* Based on studies which demonstrated a reduction in mosquitos compared to untreated controls. Use as directed. Efficacy may be affected by weather conditions, configuration and distance from repellent pods, and individual physical factors. Season assumed as 200 hours or 90 days at an average use of 2.4 hours per day.
Specifications
Contents: 36-Foot String Lights, 14 LED Bulbs, Three Repellent Pods, Replacement Fuse
UPC:

086861190241


Weight: 6.000000 lbs
Length: 36.00 in.
Width: 2.00 in.
Height: 7.75 in.

Customer Reviews
Rated

4

out of

5
by
Ginny
from
Really beautiful
We put these lights up and was amazed. Very bright and repellent works great. My only issue and reason for 4 stars and not five, was bulbs were a bit stubborn to go in. One was not in correctly and shorted out fuse. Once we figured which light was in wrong and replaced fuse, it was good to go.
Date published: 2021-07-23
Rated

4

out of

5
by
LaurenS
from
String Lights with BiteFighter
These lights look great and were easy to set up. It would be a 5 star product if there was a way to turn the lights off on the cord. The on off switch on the cord is only for the repellant; I bought a smart plug to be able to turn the lights on and off.
Date published: 2021-06-24
Rated

4

out of

5
by
Vbubs
from
So Very Helpful To Keep Mosquitos Away
Upon opening the box, the contents were nicely packaged and ready to be prepped and strung up. The cord itself is light feeling but heavy duty to where I know it will last for years to come. The fixtures with LED bulbs are elegant and stylish, simply beautiful. They look great strung up across our Bamboo fencing in our back yard where we host our get togethers. Three lighting sets off a stunning glow that's not ultra bright as to not be blinding. It's really a nice touch to our backyard setting. My friends and family were so surprised to learn about my new string lights with the Mosquito repellent inside of them. They have all seen to be amazed by that feature. This lighting has been so very helpful in keeping the biters at Bay. I'm just absolutely loving this set!!
Date published: 2021-06-21
Rated

5

out of

5
by
Brian B
from
The best of both worlds!
This product is literally a life saver. Finally, a product that offers both a lighting feature and an anti-mosquito feature. We've always enjoyed these "Italian" style light strings. When I received the box, I opened it like a kid on Christmas morning and was delighted to see that this thing feels very well made. The cord isn't this limpy Christmas light style cord, but a nice heavy duty cord that should last a very long time. Also included were LED bulbs that have a nice style to them and the containers to insert the mosquito repellent inserts. Upon further inspection, is an additional feature. You can turn the mosquito repellent portion of this on and off! We decided to hang these on the underside of a raised deck for a recent party. Our guest loved the amount of light that these put off. Not blinding strobes, but enough to see the entire area. When I told them it also is the reason we don't have any mosquitos flying around, they were surprised and then asked where I got this product. I wish this thing was released years ago so we could have been safe from the many mosquito bites we endured! We will be getting this as a gift for friends who just purchased a house when they become available. Definitely worth the investment!
Date published: 2021-06-19
Rated

5

out of

5
by
Cristina F
from
Great product!!!
Well built product. Very heavy duty- the wire is the same heavy gage as a good quality outdoor extension cord and the connections are sealed in flexible rubber. The bulbs provide a warm ambiance to the deck area. After the repellent bulbs had warmed up, I noticed a fog of repellent, but there wasn't a strong smell- if that is the intention, I think it's a nice feature for those sensitive to too much fragrance. Mosquitos haven't been out in full force yet, but whatever bugs were congregating around the side light dispersed quickly. I like how the lights add ambiance while also repelling insects. One less thing to think about, and no worry of someone (or the dog) knocking over the table torch. I'm excited to use this product this summer. It will make our evenings outdoors much more enjoyable!
Date published: 2021-06-18
Rated

5

out of

5
by
Bethieb r
from
Great
We have these set up in our breezeway. They look amazing. Most of all they are effective! We had a party last weekend and nobody was bothered by mosquitoes and better yet bitten! They were easy to set up and hang!
Date published: 2021-06-18
Rated

5

out of

5
by
Morgan F
from
Exceeds Expectations
Most of the outdoor strings lights I've looked at are short strand and need multiple sets give good coverage. This set is long, substantial and pretty! I have an awkward grassy space between my garage and sunroom that has been difficult to design around. I zig-zagged these lights from my sunroom corner to my garage and all in between and it looks great. They helped me define a space while helping to create a vibe. Also, the bite fighter tech is cool and effective for Pennsylvania mountain nights to help us from being eaten alive by mosquitos!
Date published: 2021-06-14
Rated

5

out of

5
by
Eklypze79
from
Great for late nights outside
We have these set up around our front area, we love them. They are easy to set up and the quality of the cord is great, it's very durable and will stand up well in weather. Just the right amount of light, not too bright and not too dim. We live by a lake and often have issues with mosquitoes when we are using these lights we don't have to worry because they definitely stay away!
Date published: 2021-06-13
Questions & Answers
Greetings, When one of the bulbs burn out & you have none left, can they be replaced with any bulb of the same wattage/lumens, or must they be purchased from Tiki? Also, how much is a TiKi replacement bulb/pack of bulbs? Thank you very much!
Thank you for your question! There are 2 extra bulbs in each pack. We will be selling the replacement light bulbs in the future. Please sign up for our email list to stay up to date on promotions, events, and product updates. - TIKI Brand
Date published: 2021-07-23
How large are the bulbs?
Thanks for reaching out. The light bulbs are a standard S14 size, 2-Watt, color temperature 2200K with an E26 base. We hope this helps. -TIKI Brand
Date published: 2021-07-20
Can this be used with a camper trailer or is it patio use only?
Thanks for reaching out! BiteFighter LED String Lights can be placed where regular string lights can be placed. There are numerous configurations that can be used and are dependent on the type of space. For best results, we recommend a perimeter set up, placing lights no more than 10 feet off the ground. - TIKI Brand
Date published: 2021-07-20
Are the bulbs glass or plastic?  Are they made in the USA?  Thanks.
Thank you for reaching out. The bulbs are plastic and are made in China. We hope this helps! -TIKI Brand
Date published: 2021-07-08
Do you plan on creating a stand alone version that can be added to an existing outdoor light strand?  We already have a sturdy and functional string of lights on our patio and would love to add this to our patio.
Thank you for reaching out. We love to hear from our consumers. This something that we currently do not offer. We encourage you to sign up for emails at tikibrand.com for more information on future product launches. Thanks! -TIKI Brand
Date published: 2021-07-07
Where can I purchase them if you do not ship to California?
Thank you for reaching out. We have not received federal approval yet, but it is in the process. Please go to our website to sign up for our emails so you can receive updates on our promotions and product updates.
Date published: 2021-07-06
Are the pods refillable or do you have to buy the replacement pods?
Great question! The repellent pods are not refillable but they last for up to 200 hours, roughly 1 season. We hope this helps! - TIKI Brand
Date published: 2021-06-29
Does the mosquito repellent contain deet?  
Thanks for the question! No, the TIKI Brand BiteFighter LED String Lights do not contain deet. Thanks! - TIKI Brand
Date published: 2021-06-24