LARGE FLAME STARTER PACK - 20 PACK
FOR HASSLE-FREE FIRE STARTING
Creates a large flame in a wood-burning outdoor fire pit in just minutes.
Product Details
A relaxing fire starts with a hassle-free fire starter. Meet the TIKI Brand Large Flame Starter Pack.
Instant light bag ignites in seconds with a single match
Just light the four corners of the bag with a lighter
Creates a large flame to kickstart a fire within 5 minutes
Designed to work in wood-burning outdoor fire pits to start fires quickly
Renewable wood pellets upcycled in Wisconsin from reclaimed sawdust
Each bag weighs one pound
1 Firestarter Pack = 1 Fire
No additional tinder or kindling needed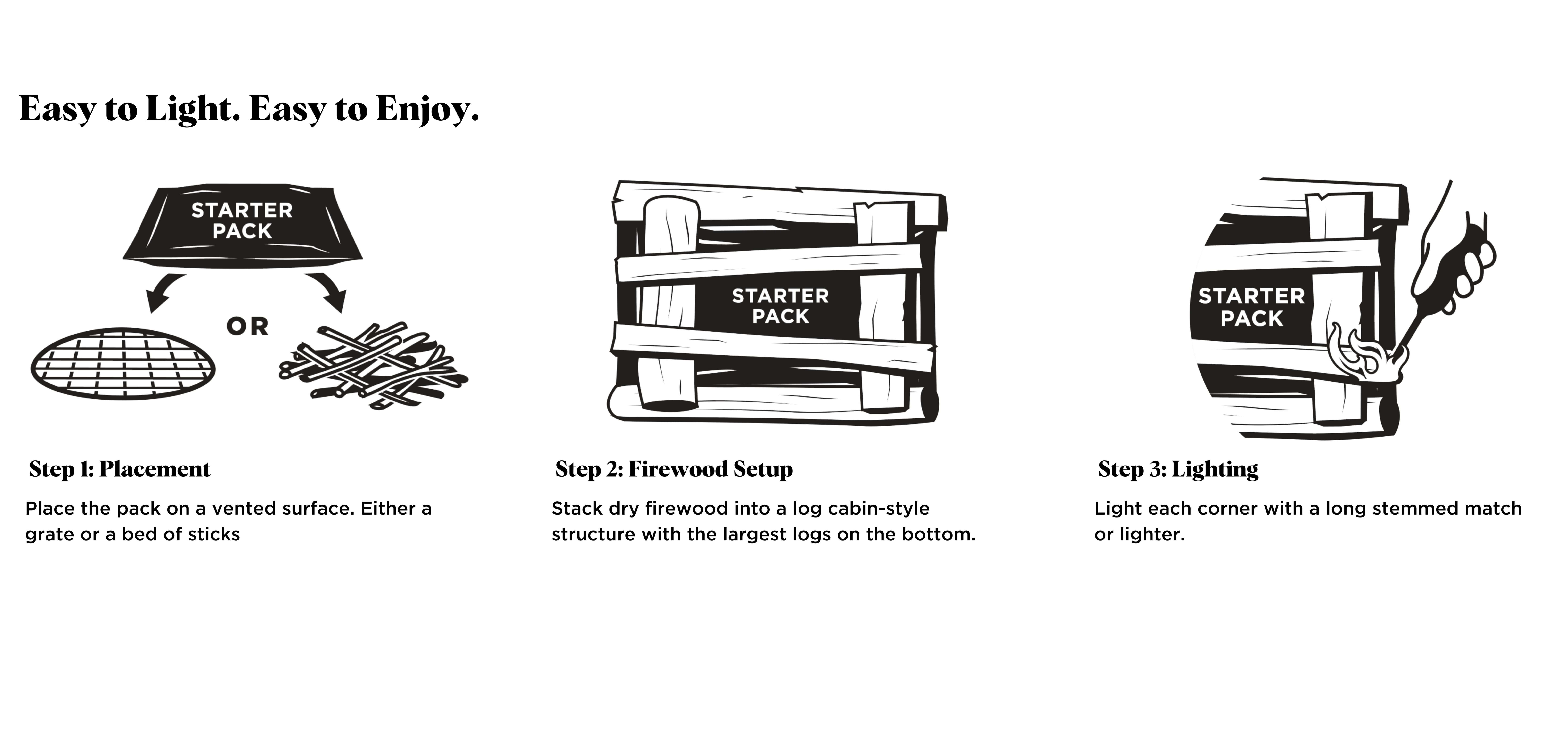 Frequently Asked Questions
Q. What is the difference between the Wood Pack and Large Flame Starter Packs?
A. The Wood Pack is designed to be used with the TIKI® Brand Fire Pit and creates a low smoke experience that will last up to 30 minutes. The Large Flame Starter Pack is designed for use in any outdoor fire pit, including the TIKI® Brand Fire Pit. The difference is that the Starter Pack is used to quickly ignite a fire while using wood logs.
Q. How do I start a fire using the Large Flame Starter Pack?
A. Place the Large Flame Starter Pack on a vented surface such as a grate or a bed of sticks. Stack dry firewood into a log cabin-style configuration over and around the Large Flame Starter Pack. Light each corner with a long stemmed match or lighter. The bag will burn quickly, creating a large flame within five minutes. As the flames die down, add seasoned cut firewood to the fire.
Specifications
Contents: Twenty Large Flame Fire Starter Packs
UPC:

086861200063


Weight: 1.000000 lbs
Length: 11.75 in.
Width: 7.50 in.
Height: 1.00 in.

Customer Reviews
Rated

5

out of

5
by
KTime
from
Buy it, buy a lot while shipping is free
I like to make my fires from wood, but I got to say these bags are pretty sweet! They are supposedly environmentally friendly, the burn is virtually smoke free and beautiful (make sure you have overhead clearance for an impressive flame) and if you want a quick fire w/o tending and worrying about ashes for the hours that follow, this is your answer. I also like it so when my teen-young adult children want to have a fire it is easy and far less worry. And if you want to add wood and hang out for a few hours, it is a great starter.
Date published: 2021-04-11
Rated

5

out of

5
by
Keith S
from
Tiki Starter Pack
The starter pack is amazing to start your fire. It burned very hot for the time stated by Tiki.
Date published: 2021-04-10
Rated

5

out of

5
by
bk hiker
from
These are great!
A friend of mine showed me this and I was a skeptic. I'm not a skeptic anymore! Besides using them in my backyard fire pit, these are also great for car camping. Now when I arrive to a campsite, I get my fire going first thing! Important: If you don't have a fire pit, put the pack over 2 pieces of wood so you get airflow under the pack.
Date published: 2021-01-31
Rated

5

out of

5
by
PoorBoy606
from
Works Great!
These are wonderful! They work amazingly perfect each and every time we use these fire starter packs! The ease of getting a fire started with these are so simple now! I like that it only takes a few minutes and bam we ready to sit and relax by a nice cozy fire in our fire pit! On the weekends it's nice to sit and relax by the fire! Tiki brand is our favorite fire starters to use! I'd highly recommend these to anyone who has a fire pit and likes the simplicity of these!
Date published: 2021-01-31
Rated

5

out of

5
by
Pamela63
from
Best fire starter!!!
The Tiki large flame starter pack is great! Easy to use, starts right up, no mess. All our friends want them! Great product.
Date published: 2021-01-17
Rated

5

out of

5
by
Heather2021
from
Instant large flame
The starter pack was perfect for kickstarting our large bonfire of yard branches, which otherwise is hard to start. My kids were able to easily light the corners and have the satisfaction of instant large flames. I was amazed that there wasn't hardly any smoke.
Date published: 2021-01-15
Rated

5

out of

5
by
silvercchile
from
Great starter
The fire pit starter pack was great. It lit up fast, and the fire started much quicker that other methods we have used. The instructions were on the pack and they were really easy to understand. This is a good item to have on hand.
Date published: 2021-01-15
Rated

5

out of

5
by
vanress
from
Best And Easiest Fire I've Ever Started
I followed the directions on the package, which were clear and easy to follow. Even with a legitimate wind blowing the fire immediately started and stayed lit on the first attempt. We are a family that have regular backyard and campground fires. I can honestly say I don't see myself starting a fire again without using the large flame starter kit, it was that easy and effective. Great product that does what it claims to do.
Date published: 2021-01-12
Questions & Answers
Hi there! If you are using these with the TIKI Brand Fire Pit, can you simply remove the cone and place it directly into the pit (along with the firewood, etc.)? It says to put it on a grate and I didn't want to assume that the bottom qualifies.
Great question! Yes, if using the TIKI Brand Fire Pit and Starter Packs, you can remove the cone, place the starter pack directly on the grate, and place the wood logs around the starter pack. We hope this helps! - TIKI Brand
Date published: 2021-03-27
On the photo it shows a round metal rack holding the wood. Is this metal rack available
Great question! We do not currently offer a metal rack/grate, but placing the starter pack on a bed of leaves and sticks works just as well! - TIKI Brand
Date published: 2020-10-12
Is the large flame starter pack recommended for use in the Tiki brand fire pit?
Great question! You can use the Large Flame Starter Packs in a TIKI Brand Fire Pit but they are also designed to work in any outdoor wood burning fire pits. We hope this helps! - TIKI Brand
Date published: 2020-10-11
Can this be used in the Tiki fire pit if using wood instead of the wood packs?
Thanks for reaching out! Yes, you can use the Large Flame Starter Packs in the TIKI Brand Fire Pit and use dry, seasoned wood logs
Date published: 2020-10-11